If you are a blogger or an internet marketer or thinking about becoming one, you need a hosting service for your websites.
Wealthy Affiliate is an all-in-one online resource for marketers that includes a state-of-the-art hosting service aimed specifically for running WordPress based niche websites for marketers.
I wrote an extensive review about Wealthy Affiliate here. However the hosting service is so packed with features and the price is very competitive that I decided it needed a review of its own.
So without further ado, let's get cracking and see how well the Wealthy Affiliate hosting service stands up to the competition!
What is a website hosting service
In case you are new to internet marketing or website hosting I thought it would be good to write couple words about what exactly is a website hosting service. If you are already familiar with this stuff feel free to skip to the next paragraph for the review.
There are millions of websites on the internet. Every single one of those websites are located on a host. A host is a server (or actually a series of them) where the actual physical data of the website is located.
A website hosting service is a service that sells or rents server space to host your domain and website content. Just like the name says, duh :).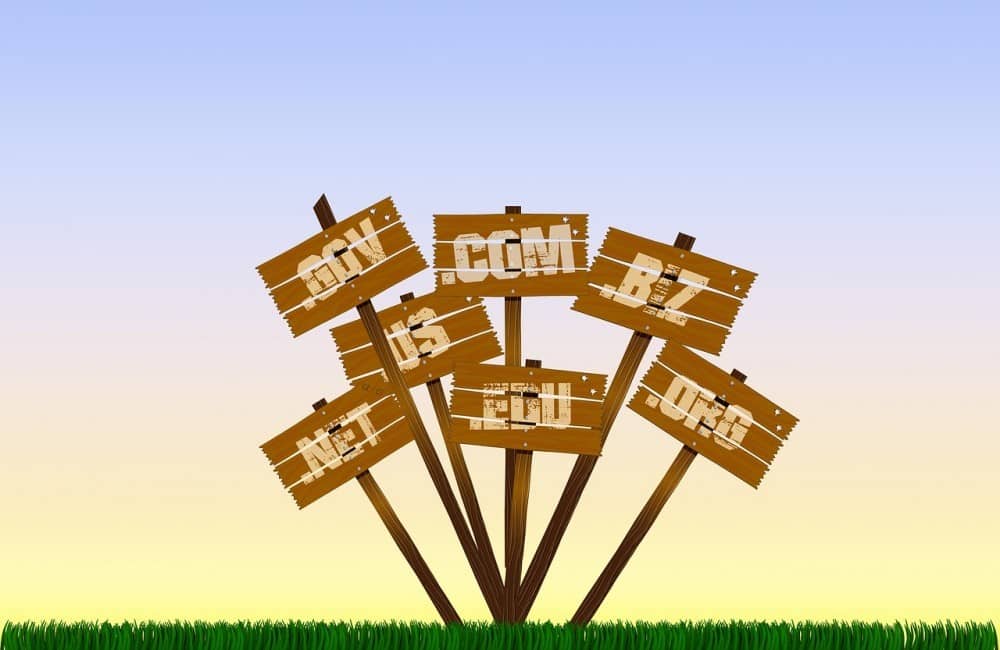 Hosting services have many more important functions like database support, data backup in case of physical storage failures. This means you don't have to have physical backups on your home computer if the service is up to par.
Modern hosting services also make sure their security is up to date so you don't have to worry about getting hacked on the server side as long as you keep your websites up to date as well.
Most hosting services also offer tools like email boxes and forwards, integrated content management systems and domain registration services.
So in essence a website hosting service can be just rented server space with database support where you upload your site files manually.
Most of the popular ones you want to use as a marketer include lots of tools. Wealthy Affiliates web hosting service is no different on this so let's check out some of the features!
Features of Wealthy Affiliate web hosting
The Wealthy Affiliate web hosting service comes packed with features just like most of its competitors. Let's start with the basics:
Number of websites:
Wealthy Affiliate membership includes hosting for 25 of your own domains plus 25 FREE websites. The free domains come with a .siterubix domain and are great for testing or for hosting small personal sites not aimed for public distribution.
Be aware that the free websites don't rank very well in search engines compared to paid domains (though, its possible to rank them) so they really serve best for testing.
You have to naturally pay the registration fees for your own domains. The registration fee is $ 13.99 – 15.99 / year. There are no up sells and the registration process is very simple and fast. There is 30 GB of server space included for your websites. Nothing to complain here.
One of the great things about the domain registration service is that it looks for alternative domain names and suffixes if the one you want isn't available.
The whole Wealthy Affiliate service and its tools are fully integrated. This means you can actually do keyword research with Jaaxy (lite version included) and see if the exact match domain for a keyword is available. You can then register the domain with couple clicks. This is a feature especially marketers and anyone knowledgeable in SEO will appreciate.
Speed:
As the internet is evolving, research engines are giving more and more importance to user experience. Site loading speed is one of the not so obvious, yet one of the most important factors for positive user experience. People hate slow sites and for that reason, Google hates them too. Search engines appreciate good user experience.
That's why it extremely important to use simple page design, compressed pictures and avoid using too many plug-ins on your site. But even if your site is optimized to the perfection, it doesn't matter if your website is hosted on a slow server.
Many cheap web hosting services that seem good on paper otherwise are cheap because they are located on slow and cheap servers. Speed costs money you see.
Wealthy Affiliate uses Amazon hosting servers that are located on the latest and most powerful server in the world. The average page load time in WA web hosting is only 1.3 seconds. This is excellent by anyones standards.
Server uptime:
These days most hosting services have pretty stable server uptimes. Because even few minutes of website downtime can cost a company thousands, hosting services do their best to keep all the websites hosted on their servers up and running.
While most hosting services have gotten the downtime to few hours per year, Wealthy Affiliate offers full website redundancy. They accomplish this by having a constant mirror of your site in case of server failure or maintenance. If your actual site goes down, the mirror is swapped over instantly.
This is something that should not be taken lightly. Like I said, any downtime on a successful marketing site can mean the loss of thousands of dollars in revenue. This kind on website uptime is really unparalleled and state-of-the-art technology. The fact they have included this in their modest pricing is incredible!
Security:
All domains purchased through Wealthy Affiliate web hosting SiteDomains service have privacy protection included. This is something you usually have to pay extra $10. It protects your personal information from identity thefts, spammers and your competition. This is something you want to use these days no matter where you decide to host your site.
WordPress is a great platform for bloggers and marketers as it requires close to zero technical skills to publish content. It is however notorious for getting hacked, because bloggers and webmasters forget to keep their WordPress and plugins up to date and hosting services have had issues with WordPress security on their end as well.
This is something you don't have to worry about with Wealthy Affiliate. The whole hosting platform is built from the ground up with the aim to offer the best WordPress platform around.
The company really knows WordPress and its security issues. This means they are able to prevent spam and hacking completely.
Backups:
One great feature of WA hosting is daily backups. This means if you manage to delete something valuable on your site or whack everything up while running an update, they can help you return a fresh backup copy of your site.
Cons
The WA web hosting is geared towards marketers building niche websites using WordPress content management system. It's without a doubt the best and most comprehensive service for THAT use.
If you dislike WordPress for some reason, you will lose a lot of the functionality of WA web hosting. There might be better services available for you that allows you to choose your content management system.
Experienced webmasters who like to write their own code and have the possibility to trim and tune ever small little detail on their site, databases and servers, might find WA too integrated. It's geared towards simplicity and time efficiency, not technical versatility.
Then again if you are an experienced webmaster you probably won't end up reading this review.
Pricing
"Yeah so Wealthy Affiliate website hosting seems all fine and dandy Jukka, but it must cost an arm and a leg, right?"
Well, here comes the best part. It's actually one of the cheapest (serious) hosting services. There are cheaper ones but they don't really offer the speed and security that a successful site or a blog requires these days, so I won't count them.
The monthly subscription of Wealthy Affiliate costs $49. This might seem a bit steep at first glance especially if you are looking to run a single blog or site. Do take to account the price remains the same even if you are running the full 50 websites (except for the annual domain registration fees).
But there's more! If you take the yearly subscription the price drops to $359 / year which equals $29.90 / month. Talk about a big discount.
But wait there's even more! If you want to get the subscription for super cheap, you can usually get the yearly subscription for $299 during the black Friday weekend. This drops the monthly cost to $24.90.
BUT WAIT! THERE'S EVEN MORE! Actually there really isn't. I just like being dramatic and I'm not very good at selling. I'm sure you can tell :).
Or actually there is. You can actually test Wealthy Affiliate for completely free without even giving any credit card information.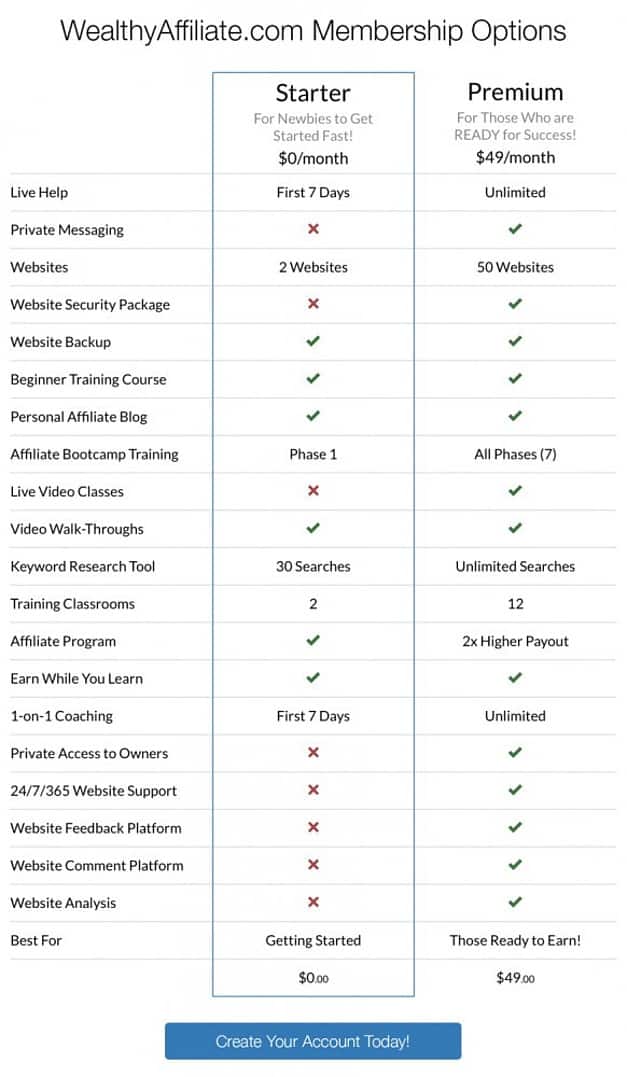 Wealthy Affiliate web hosting compared to other popular services
Let's compare Wealthy Affiliate web hosting service with some of the popular premium WordPress hosting services marketers use: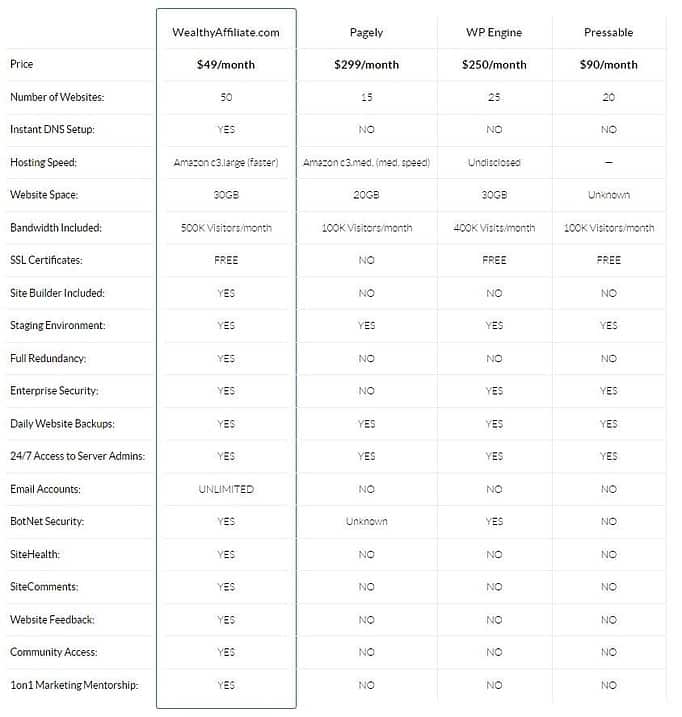 As you can see, the WA web hosting is pretty far ahead of the competition when it comes to the features and bang-for-the buck.
It has the biggest amount of websites, fastest hosting, most bandwidth and unlimited email accounts just to name few of the perks.
Conclusion
The Wealthy Affiliate web hosting that comes as part of the Wealthy Affiliate premium subscription is the best hosting service for marketers or anyone looking to build fast sites with easy to use interface. With all the tools from keyword research to marketing training it really is a no brainer to go with Wealthy Affiliate.
If you are a marketer or a blogger looking to build sites without all the hassle then I can recommend Wealthy Affiliate wholeheartedly! Let them take care of the technology so you can focus on your business. Time is money after all! Nothing takes take fun out of running an online business like battling with technology.
If you have any questions or comments please share them below and I promise to answer them asap.
Till the next time!