Welcome to my Coupert Review! Coupert is a website and app for finding the best discount coupons and deals out there. But is it legit or a scam? Let's find out!
Before we begin, I want to congratulate you on taking a minute to do research. It's the only way to avoid scams and find the legit opportunities out there.
If you are new to my site, it's dedicated to teaching ways to make money online for regular people. I review business opportunities and help people avoid scams. Because there are A LOT of them online.
Occasionally I review saving opportunities like Coupert as well. Because hey, every penny counts, right?
If you are new to the potential of making money online, I want you to realize it's completely possible for regular Janes and Joes to make a full time living online.
You can work online, you can gamble online and you can create an online business that produces passive income. The first pay less than regular jobs, the second is something I don't recommend but the last one is something I recommend everyone to get into as soon as possible.
But I digress. This post is about Coupert, so let's get on with the show!
Coupert Summary
Product Name: Coupert
Product Type: Online Coupon and Cashback program
Product Price: Free
Summary:
Coupert is a free to use discount coupon platform that also has a Chrome web browser extension. The extension allows you to get automatic coupons on thousands of online stores.
Coupert definitely seems legit and it has very good reviews on Google store. It can help you save some cash on online purchases.
Coupert also offers a referral system that could potentially help you earn some income.
From what I've seen I can recommend Coupert as an tool to get some savings but it's not really a feasible way to earn an income online, which I'm all about.
If you want to learn how to make an income that helps to pay the bills and puts foods in the table and can give you complete financial and geographical freedom, check out my top recommendation through the link below.
What Is Coupert
Coupert is a discount coupon website that has been around since 2017. The website was created because the creators were tired of clipping coupons and scouring the Internet for deals.
The company is based in Hong Kong but they operate globally and have over 1.2 billion stores and brands in their network. Yes, billion, not million.
The mains service Coupoert offers is listing coupons. vouchers, special offers, promotions, and discounts to online stores by category.
The categories include:
Automotive
Books & Magazines
Clothing
Computers & Electronics
Entertainment
Flowers & gifts
Grocery & Food
Health & Beauty
Home & Gardening
Jewelry
Pet
Sports & outdoors
Travel
Internet service
General Merchandise
Coupons
Shopping
Weddings
Popular stores and brands include everything from Walmart, Target, and QVC to Aliexpress, Staples, Nike, etc. They truly do have over a billion stores and brands in their networks so there are offers for almost anything. But it doesn't seem to support Amazon.
What makes Coupert truly unique is that they have a Chrome browser extension that will automatically look for coupons and deals on any website.
Coupert also offers an Ambassador program that is essentially a referral system that allows you to earn money by referring people to join the program.
For user-friendliness, they also offer a simple registration process if you don't want to become a subscriber.
How Does Coupert Work
Coupert is very simple to use. You just head to Coupert.com (that's a referral link) and you can look for coupon codes by categories. If there happens to be a coupon to the store you are looking for, you just click it and it shows the discount code or offers.
But the real power of Coupert is the Chrome extension that automatically looks for coupons on any supported online store. I created this short video that shows Coupert in action:
Can You Make Money With Coupert?
There are two ways you can make money with Coupert. Well, the first one is actually saving money. The coupons and offers they share on the site for free are legit and you can use them to save money when buying something online.
It's probably easiest to just install the Chrome extension so you can get automatic notifications of suitable coupons when browsing online stores.
The other way to actually make money with Coupoert is through the Ambassador program. The ambassador program offers you the chance to earn $5 anytime a referral installs Coupert.
The referral also earns $2 so it's a win-win situation. You will also earn 20% of any cashback they redeem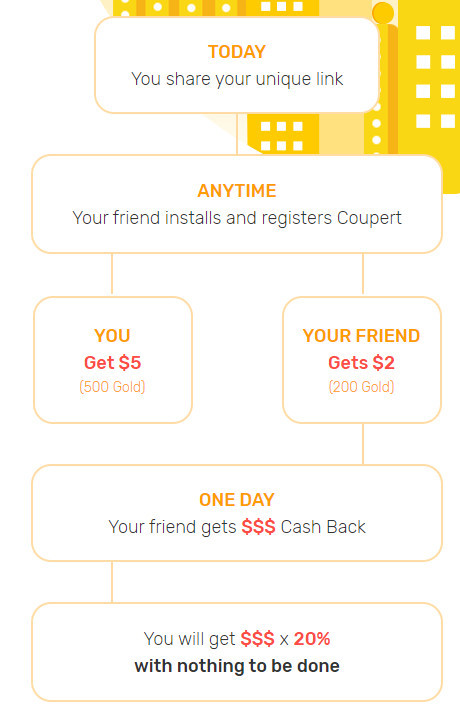 I guess you could get significant income from this if you referred thousands of people into the system.
But in all honesty that is unlikely in my opinion. Maybe if you are a social media influencers it might be possible to pull off.
But for most users, Coupert just offers the occasional chance of saving a few bucks by applying a coupon or taking a deal. So I can't really recommend Coupoert as a business opportunity.
Is Coupert A Scam?
No, Coupert doesn't seem to be a scam. They simply offer a simple way to find discount coupons to your favorite stores.
Their Chrome add on has 977 reviews and an average rating of 4.8. of 5 so I think that tells you everything you need to know. People are finding it very useful.
That said I don't personally really care about using coupons. Sure, if I can easily save a buck or two I will, of course, take the opportunity.
But I'm more about creating enough income that I don't have to count pennies when shopping for daily needs. I believe in buying quality, even if it's for a premium.
I appreciate my time more than counting for pennies. I, of course, check out the best deals when buying new appliances for example, but for basic stuff like groceries I really don't bother.
But this is where Coupert got my interest. It actually makes finding coupons on online stores easy enough that I might actually use it consistently.
I still believe it's much more important to focus on the income side of the equation than on the price of single expenses. I also believe in reducing overt consumption.
Don't buy anything that you don't really need and when you do buy, buy the best quality you can afford so you don't have to buy it again soon.
If you want to learn how to increase your income by leveraging the online world, I can show you how I and thousands of others have created full-time income online.
Want To Learn How To Make Money Online?
If you want to learn how to create an actual online business that can create full time or even life-changing income, hear me out.
In case you are new to making money online, there are people all over the world making a living (and fortunes) by running their own online businesses.
There are several ways to create an online business but the business model I recommend for beginners is called online affiliate marketing.
In essence it's really simple. You create a website around a niche, create content people are looking for, people find your content through Google, you recommend products through affiliate links and when people buy something, you earn a commission.
The reason this business model is so powerful is that whole process is automated once it's setup. The real work is the content creation.
But when you create a piece of content, it stays online indefinitely and sometimes produces income for decades.
Now even though it might sound easy on paper, there are a lot of little intricacies you need to know and it takes quite a bit of initial content to get your content to rank in Google these days.
That's why you need training and determination. If you are willing to learn the skills and apply them, you get to enjoy all the benefits of owning an online business.
How does complete financial and locational freedom sound like to you? My websites work for me 24/7 even if I don't do anything for several weeks and I can work on it from anywhere in the world.
I learned how to do this stuff in a place called Wealthy Affiliate. They offer all the training and tools you need for a very affordable price. You can actually end up paying more for website hosting alone somewhere else.
I also created a free 7-day course that helps you set up your own online business in a week. Feel free to take advantage of it!
Conclusion
I hope you found my Coupert review useful. Coupert definitely seems to be a legit service for finding the best deals and coupons for online stores and it can help you save some money.
But it's definitely not a feasible way to earn an income online. For that I recommend starting your own online affiliate marketing business.
It takes work and won't pay you right away but the benefits are definitely worth it. In times like these when a global pandemic is jeopardizing everyone's livelihood, I think it's wise to diversify your income sources.
The great thing about online business is that the pandemic won't really affect people's online actions. Well, it will, of course, affect it a bit but not anywhere near to how brick and mortar businesses are hit. On the contrary people might actually start buying even more online.
So I definitely recommend you consider the option for yourself while taking advantage of the Couperts discount and cashback coupons!
Thanks for reading and if you found this post useful, remember to share it on social media!
I've Recently reviewed Similar Products you might be interested in: