This is the most thorough Wealthy Affiliate Review you will find online. If you are thinking about joining, all the information is here. Including the dirt.
First of all I want to congratulate you. I'm glad to see you here because of the opportunity your are about to find out. Wealthy Affiliate was the game changer that got me to create my own online business. It can be that game changer for you too if you let it!
I've been part of the community for couple of years now. This gives me insider knowledge and I promise to share every little detail with you.
But unlike many folks out there marketing WA, I promise to tell you the truth, I will remain unbiased and tell you the negative sides as well. Nothing in this world is perfect after all.
To give you a fair warning, this review is fairly long. About 12 000 words or about 15 minutes of reading.
So if you are in a hurry, bookmark this review and check the summary below.
Summary
Company Name: Wealthy Affiliate
Product Type: Affiliate Marketing training & platform
Price: Free to join, $19/month 1st month, $49/month after that. $495/year.
Recommended to: Anybody looking to start a home-based business or looking to turn their hobby or passion into a successful business. Also for small business owners looking for ways to take their business online.
Summary:
Wealthy Affiliate is a very honest company that teaches a proven business model based on Search Engine Optimization and affiliate marketing.
It's my #1 recommendation, because it has allowed me to create two income producing websites!
In short, the business model involves creating websites and content with affiliate links in them. When people buy products through those links, you earn a commission.
This business model allows complete freedom over where or when you work and can be highly automated, resulting in passive income.
Wealthy Affiliate is, in my opinion, the best bang for the back as it's very affordable compared to many competing services. It also has all the tools you need under the same roof, including web hosting and keyword research tools.
That said, WA has it's a shortcoming as well. The business model involves a lot of work and takes longer to work than you'd think at first glance. But it absolutely works.
Still, most people fail because they give up too early and are not willing to put in the work. Don't be one of these people. Decide to succeed and you will.
You can check out the free training and join Wealthy Affiliate through the buttons below. Remember that Wealthy Affiliate is complitelty free to join and they don't even require you to register a credit card to get access to the free training.
I also created a FREE 7-day course you can leverage to get a head start at Wealthy Affiliate, check it out below as well!
Testimonials: Part 1
I want start right off the bat with some testimonials, because the biggest question in my mind when starting out was "Is this program legit? Are people actually making money with this program?". I bet this is what is going on in your mind as well.
The people I'll show you in these testimonials are 100% real and the success stories are something they've openly shared with the community. There are of course a lot more successful people that don't want to share their success with other for one reason or another.
If you are concerned these might be fake stories, you can go right ahead and join the community completely free, no strings attached and drop them a line and see for yourself that they are real people.
The first success story I want to share with you is by Grace, better known as littlemama in WA. She's been with the community since 2016 and in only 4 short years she has managed to make a very comfortable living out of her online business. See how Grace made $1400 in a single day.
The next person I want you to meet is Nathaniell. I love his story because he has been with the community since 2010 and he originally made a full time income with a niche sites about something completely else than online marketing.
While there are a lot of success stories of people marketing WA. Nathaniel is a big proponent of how WA can teach you to turn any passion into an online business.
I personally created a successful site in completely different niche before I felt comfortable marketing Wealthy Affiliate. I needed to know the system works on anything and not just on marketing the service itself. Because there are programs like that out there as well you know…
See how Nathaniell made sold one of his niche sites for $30 000.
My Story
Before I continue, I want to tell you my story and experience with Wealthy Affiliate so that you get a better understanding of where I'm coming from.
If you just want to read about Wealthy Affiliate, feel free to skip this chapter.
Wealthy Affiliate was not my first encounter with online marketing, for many it isn't.
But I could say it was my first encounter with a legit program with actual honest people looking to help me out.
But more about that a bit later.
1st encounter
I think the year was around 2010 or 2011. I was working on a research program as a research assistant to get my last internship in so I could graduate with my bachelors degree.
The work I was doing was repetitive and involved a lot of sitting and waiting while waiting for a test sequence to run through.
The project involved a lot of of waiting between tests runs and there was literally nothing useful you could do while waiting.
I had bought my first smartphone right around that time. A cheap Samsung. It gave me the opportunity to browse the Internet while waiting.
At some point, I remember Googling "Earn money online" or "Make money internet" or something along those lines.
I knew that people were making money with YouTube (yes, even in 2010) and blogs, but I had no idea how.
To my surprise, I found tons and tons of sites that showed exactly how to make money online.
This was my crash course in the world of online marketing. I read about affiliate marketing, PPC, CPA, solo ads, email marketing, etc. etc.
A bit overwhelming to say the least. I soon stumbled upon a place called the WarriorForum. It was an online community for online entrepreneurs. Or so it seemed.
I decided affiliate marketing through SEO (search engine optimization) is the business model I want to try.
I bought some training on the WarriorForum, bought my first domain and started writing. I was super excited.
My first site was called Beginner Guitar and Bass I think. I was reviewing and recommending guitars.
I think I created like at tops 10 posts on that site before I gave up. The learning curve simply seemed to steep and I was busy with work.
I also created IHateWorking around this time. I don't hate working by the way, I just though it was a brandable name that people might find funny. I just wrote about online business but didn't really work on it.
After a year none of my content was ranking and I had just gotten a long-term position so I ditched the site and online marketing as a childish dream. Big mistake.
2nd Encounter
Fast forward a few years. I'm doing relatively well career wise, the hours and pay are decent but I find myself dreaming of a different kind of life. I've always wanted to be an entrepreneur.
This when I remembered online marketing. When I had my first encounter with it, I already realized the potential of it.
Since it's based on a website and your selling is automated through links, it truly doesn't matter where you work on the company.
It also doesn't matter at what time you work on it. And the most beautiful part was that work once done can pay you for years on complete automation. The true passive income.
At this time I was following another Finnish guys health-related blog. He was dominating the niche and banking in serious cash. In English. And he was sharing it quite openly.
I wanted to follow his lead. I bought another domain. I was really into health at this time so my new blog was about stress management.
This time I created about 15 posts and again waited for a year. I got maybe 50 visitors through organic search and zero sales.
I was about to give up again.
3rd and Final Encounter
Fortunately, I made the decision to invest in training again. I started researching like crazy.
At some point, I ran into Roope Kiuttu, another successful Finnish online entrepreneur. He was recommending Wealthy Affiliate.
For some reason, I tend to trust my fellow countrymen more, so I decided to do additional research on WA.
After a week or so I decided to create a free account and I went Premium within three days or so. And I haven't looked back.
That was back in the spring of 2018 I think. But my track record at WA was definitely not an instant success.
I first followed the online entrepreneur certificate and created a website about airsoft guns. That turned out to be something I had nothing to write about after 20 posts.
I then worked on IHateWorking for a few months (I had kept the domain for all these years). But decided I need to succeed in another niche before I can market WA with a good conscience. I needed to know this stuff works in any niche.
I've been going to the gym and done strength training for over a decade and I know how beneficial it's for aging. So I decided to create a site about strength training and exercise equipment for seniors.
This was at the beginning of 2019. I wrote a post on the site every single day for the first couple of months and then a couple of times a week.
I was determined to make the site a success. I followed the training at WA to a tee.
After four months the site started picking up traffic.
After six months, I started making sales (Amazon).
After 9 months, I was getting thousands of visitors every month and the income kept rising.
Finally, I had succeeded.
At the end of the year I was feeling bored with that site, so I decided to start working on IHateWorking again. And here we are.
I have no intention to ditch the other site, on the contrary. But the great thing is that both traffic and sales have been getting higher even though I haven't really worked on the site for months now.
The beauty of the business model is that you can let your website sit for months or even years and it's still keeps producing income. Just keep everything updated for security reasons.
I wanted to create this review to spread the word. If you follow the training at Wealthy Affiliate and my tips, you could have a profitable site in less than a year.
I don't want you to waste a decade as I did.
What Is Wealthy Affiliate
So what exactly is Wealthy Affiliate? Well, that's actually a tough question answer shortly because it's a lot of things.
In short, it's an all-in-one online affiliate marketing platform.
Now I understand this might not tell you too much, so let me explain.
The main selling point of Wealthy Affiliate is the training. They teach you how to create a successful online business
This is accomplished through simple step-by-step training anyone with two brain cells can follow. I'll talk more about the content of the training later on.
If you are completely new to only business and affiliate marketing, you might not know what a typical online business requires to operate.
The business model they teach at Wealthy Affiliate is based on Search Engine Optimized (SEO) affiliate marketing.
In this business model, you will typically need a website, where you create content around a specific niche (a topic/category) of your choosing.
When you create enough content and optimize that content for search engines, you will start to rank in Google's search engine results page (SERP) when people look for information in your niche.
To make sure you rank in the search engines, you will create the content around certain keywords, which are essentially phrases.
This could be something like "Wealthy Affiliate review". When people search for that phrase, your content would come up. Get it?
To find these keywords you will need a keyword research tool that shows how many searches different phrases get and how tough the competition is.
Now to get those keywords to rank, you need to create content around that. So you essentially need to build a website.
You then need to find an affiliate business, whose products you can recommend to your visitor looking for the visitors.
In our example "Wealthy Affiliate review" you could recommend Wealthy Affiliate through their affiliate program or a competitor's product. Up to you really.
If a visitor on your site would click a link and make a purchase, you would earn a commission. Simple isn't it?
Companies are willing to share their revenue with you because they know this is a very powerful way to increase their sales.
Especially digital products like different online services and software can offer huge affiliate commissions, up to 70%.
It's so profitable to the business that they are willing to give away the lions share of their revenue because they know the affiliates will increase their sales so much, creating a win-win situation.
So to summarize all that, you will need a way to run a website or websites, a keyword research tool, a way to create content, an affiliate program guide and training on how to make this all into a functional, income-producing system.
Wealthy Affiliate accomplishes all that. It includes the following things.
A website hosting service for 10 sites in the premium subscription
Jaaxy lite keyword research tool with unlimited monthly searches
Complete WordPress integration, making creating websites ridiculously easy
An affiliate program database
Two complete step-by-step training to creating a successful online business
A huge database of training created by members
Additionally, Wealthy Affiliate includes a very active and helpful community that can be a great source of motivation when you feel lost or stuck.
They also offer a top-notch help center I'll talk more about later on.
The People Behind WA
Before I forget, I would like to talk a couple of words about the people behind Wealthy Affiliate. Kyle and Carson.
Wealthy Affiliate was created by Kyle and Carson back in 2005 and the company has grown to an almost person, multi-million dollar company since then.
Their goal has been since the beginning to earn the trust of their users as the whole online marketing and make money online niche is full of dishonest people and scams.
Since the inception of the company, there have been over 2 million people as members of Wealthy Affiliate so they definitely have some experience in coaching people.
Kyle is pretty much the "face" of Wealthy Affiliate as he is the one handling customer contacts and presents all the pieces of training.
You can actually spot Kyle almost daily in the community either in the chat or answering questions, so it's great to know they are not just distant owners of the business even though it's very successful at this point and I have no doubt both are very wealthy.
Carson focuses more on the technical side of WA and he leads the technical team that makes all the magic happen under the hood.
I've actually had Carson personally answer to a support ticket about server issues so it's great to see both of the founds are still very much involved with the business.
This goes to show that they have respected their initial goal of creating trust with their customers and I have no doubt they will keep working very had far into the future.
For some reason, I feel it's very unlikely they would sell the company to the highest bidder or stop interacting with their customers.
It's like WA is their baby and both seem very stand up guys that honestly want to help people out.
What To Expect From Wealthy Affiliate
So now that we know what Wealthy Affiliate is about, what should you expect from the service?
When you first join Wealthy Affiliate, it becomes apparent it's a community and a social platform.
They encourage you to introduce yourself and to participate in discussions. This helps you network and to get help more easily.
From the training, you can expect to learn at least the basics of modern SEO, affiliate marketing, content creation, keyword research, social media marketing etc.
The courses are laid out in a very easy to follow step-by-step order.
Wealthy Affiliate is free to start so you can take a look around without even needing to whip out your credit card.
The free subscription even allows you to create two free sites on a something called SiteRubix domain.
You might feel a bit at a loss when you get started but it's really easy to get the hang of it.
I think it's imperative that you focus on the training, in the beginning, so your first month or two in Wealthy Affiliate will involve a lot of writing.
Writing is the name of the game after all with SEO. You will create your website pretty much straight away in the training and then it's time to start creating content.
The more content you can create the better.
So expect to learn a lot of new skills fast (they've made it easy), lots of writing and networking with new people from your first couple of months at WA.
What's The Big Deal About Online Business?
If you are completely new to this stuff you might be wondering why exactly you would want to create an online business. Running a business is hard work after all, isn't it.
I thought I'd say a couple of words why SEO based online business is superior to "regular" business so you get a better understanding of what all the fuzz is about.
I assume you understand the basics of regular business. You provide a product or a service and sell it in exchange for money.
If you are in the business of selling physical products you need complicated and expensive processes including manufacturing/buying inventory, logistics, stock/inventory, premises, marketing, personnel, selling, shipping, etc. etc.
Even if you are just selling a service you still usually need some form of premises, marketing, handling customers and above all doing work in exchange for money.
The holy grail of online business is what's called passive income or residual income.
The idea is that you provide a solution to a problem people are looking to solve:
Does somebody need a need electric toothbrush? Great, present the best one for them!
You then create an automated process that allows people to find your solution i.e. your website. Then you get an affiliate program for that product.
When people search for the solution, they will find your information. The idea is that you do the work once, and they can find the solution for years to come.
Let's say you create a post about that toothbrush and it ends up making you $100 on automation every single month (in reality it fluctuates).
A single post wouldn't be enough to make a living. But the page is there making money on automation.
What if you had 10 of those posts? or a hundred? or two hundred?
At this point, you should be realizing where I'm going at. We are talking about exponential automated "passive" income.
In this business model, the revenue is very small in the beginning but it starts to add up over time.
And now comes the best part.
Since this is all made online, the only things you need to work are a computer and an internet connection.
The so-called "laptop lifestyle", that allows you to work from anywhere in the world and to decide when you want to work.
That's what all the fuzz is about.
Just think about it. If you had 200 posts creating $100 (don't expect every post to create $100 btw) on automation every single month.
That would be $20.000 on automation every month. And you could work on your business anywhere in the world or while traveling.
Now creating $20.000 takes a lot of work and time or luck, but something more realistic like $2000 is much more achievable in a year or two.
Make no mistake, there are people who have made the $20.000/month after their first year, but they are the exception. Or more like a unicorn. And they've probably mastered paid traffic as well.
Additionally, compared to a regular business there are next to no expenses. You only need to pay for a hosting service, annual domain registration fees and maybe some additional services to make your business easier to run.
We're talking less than $1000/year here. A lot less. $495 actually.
Now compare that to regular business. What kind of business can you run with so small expenses?! Absolutely nothing, not even close.
I bet you can see why this type of online business is something to strive for. It allows financial freedom so you can free up time to pursue additional business opportunities or to do whatever you want to do with your time!
The good news is that it's totally achievable in 2020 and WA is one of the best places to learn how to do it.
Now that we understand what we are aiming to achieve here, let's look at the different components of Wealthy Affiliate more closely.
The Community
Before we get on with the training, I want to mention the community because it's such an integral part of the WA experience.
Some call it a community, some call it a family. I've seen some people call it a cult. I guess they didn't really enjoy their stay.
Now I'm not a super positive person, I'm realistic, but I have to say that the positivity and enthusiasm at WA are infectious.
I love the way people interact with each other and talk about business and everyday life.
I think Wealthy Affiliate is special because there are people from all over the world from all backgrounds and ages sharing the same goal. Achieving financial freedom through online business.
The fact that so many people share this same goal gives you a good perspective on the way most people see the working life these days. It draining, simply put.
I've met so many interesting people in WA that I truly think the community alone is worth the premium subscription.
But I'm not going to try and convince you, it's something you have to experience yourself and decide if you like it.
I think one of the reasons why the community works so well is the social system they have built on the platform at Wealthy Affiliate.
Let's look at how it works
Profile
Every user in Wealthy Affiliate has a profile. It's just like your profile in social media or anywhere else really.
You can include a picture of yourself and a short bio. I love reading about people's backgrounds from their profiles. It's kind of addictive really. I guess I'm weird that way.
Under the profile you will find also the users Goals if they have stated them.
There's a board or a wall where you can leave messages or you can send a private message to a user through the profile page.
You will also find their networks, i.e. the people they are following and the people that are following them.
It's also possible to blog within the WA platform, you can find the blog posts of a user under their profile.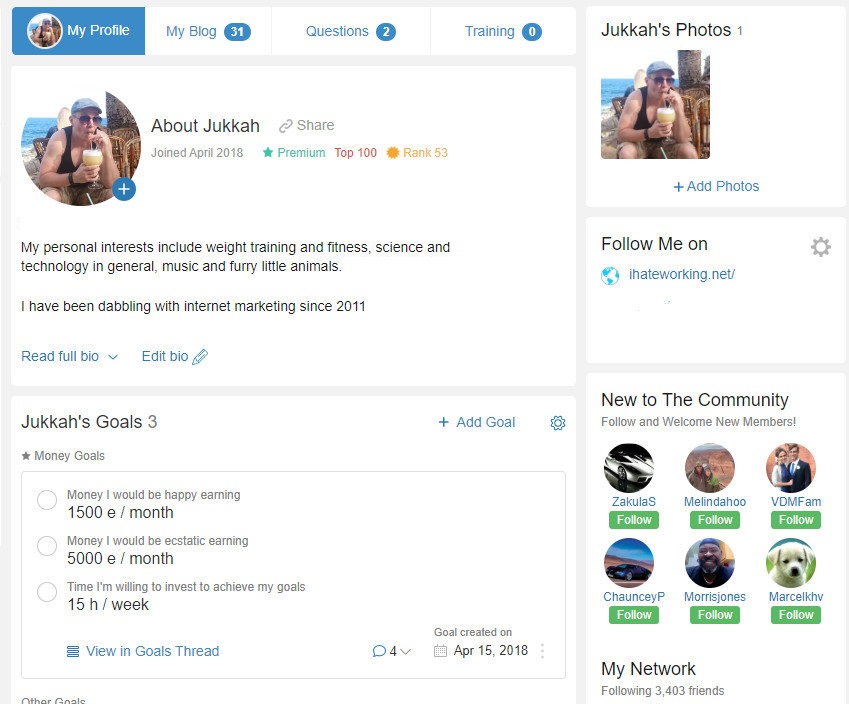 Rank
Being active within the community is rewarded by an increase in Rank. Or actually, it's a reduction because a lower number is better.
Your rank will improve by answering questions, communicating with people, completing pieces of training, creating trainings, blogging or through any activity really.
The rank doesn't really bring any additional privileges or benefits other than social respect within the community.
If you get into the top 20 or so, you will have the possibility of earning the badge of an Ambassador.
From what I can tell it doesn't really offer any benefit either but Kyle has stated they do have a budget set aside for Ambassadors.
So it seems the ambassadors do get some secret bonuses from the creators of the platform, Kyle and Carson.
I guess I'll have to become one so I can share with you how it's like!
Blogs
Like we established already, it's possible to blog within the community. Why would you do this you ask?
I personally do it to increase my rank (which I really don't think you should focus in the beginning) and to get some discussion going in the community.
I also do it to document my progress and to "pay forward" my experience.
One great thing about the internal blog posts is that they can pretty easily rank in search engines.
If someone finds your WA blog post through Google, reads it, takes a look around and decides to join, you will earn a commission.
That said, I haven't had this happen to myself so I'm not really sure how common this is. Maybe my blog posts are too boring. I don't really do keyword research for them so it really isn't a wonder.
I save the keyword research for my main websites and keep the blog at WA as more of a creative outlet. I write what's on my mind that I'd like to share with the community.
Training
One of the social components I really like about Wealthy Affiliate are the community-driven training.
Anyone with a premium subscription can create trainings in Wealthy Affiliate.
There are literally thousands of user-created pieces of training that range from setting up WordPress to SEO to transferring sites, creating logos etc.
This makes the training side of Wealthy Affiliate a lot more diverse than it seems at the first glance.
You can find almost anything concerning online business there. Some older but most very current.
You can find training on PPC campaigns, email marketing, different business strategies, lead generation, CPA offers, SEO.
I think the "In House" training is just the tip of the iceberg at WA, the real magic are the community training.
Talking about the In House training, let's look at it next with more detail.
The Training
The training is the main selling point and reason why people initially decide to become members of Wealthy Affiliate. They want to learn how to create an online business.
The funny thing is that many people actually fail to complete the training even if they pay for a premium subscription.
I want you to make a promise to me: Don't be that person! Decide right now that if you are going to get on board, do not give up without finishing the training!
The training isn't usually the reason people stay in WA. They stay for the tools and the community.
There simply isn't a better bang for your buck and for the convenience of having all your tools under one roof.
I don't know about you but I get confused easily and lose focus if I have to jump between several services. WA allows you to stay focused.
Online Entrepreneur Certificate
The first training I'll introduce is the Online Entrepreneur Certificate. It's training that teaches how to create a successful online business in almost any niche.
This training contains "the basics" of the business model they teach at WA and I highly recommend you start with it.
It's easier to understand the whole process and the additional training if you know the basic process by heart.
This training is also the place to get started if you have a hobby or a passion you are looking to turn into a profitable business.
The training consists of 5 levels with 10 lessons each. Each of the lessons is additionally split into daily tasks.
Most lessons consist of a video tutorial with additional information in writing.
The daily tasks vary in length but generally speaking you can complete the tasks in a couple of hours.
The tasks include things like setting up your site, setting up plugins, setting up affiliate programs and of course creating content for your website.
The content creation is typically the most time-consuming part and it depends a lot on your skills and experience how long it takes.
Don't worry if you are not a professional writer, I'm not either. It becomes easier over time. I'm not even writing in my native language.
All in all I think the lessons are laid out very well and after a couple of week you will realize you've accomplished a lot just by completing all the tasks.
Level 1: Getting Started
The Level 1 training is called getting started and it explains the basic process behind the business model.
They explain the basics of SEO, affiliate marketing, affiliate links, creating a website with WordPress, etc.
You also get to choose your niche and to create your first website.
The level 1 training is included in the free membership, so feel free to try it out right away.
All the advanced levels require you to become a premium member but I'm going to give you shot peek into what you can find in the trainings.
Level 2: Building A Website
The Level 2 training focuses more on your website and getting traffic to it.
It involves things like branding, keyword research, setting up emails, traffic sources and making use of visuals.
This classroom also teaches you more about how to leverage the Wealthy Affiliate platform and how to network within the community.
Level 3: Making Money
The Level 3 training focuses on the most interesting part: Making money!
The lessons involve a lot of information about affiliate programs, where you can find them, how to use them etc.
They also introduce how to use affiliate links, create product reviews and how to get paid for showing ads on your site.
One of the key points in this lesson is that you should strive to help people and the money will come.
If you just create content for the sake of making money, you will not convert your visitors to sales very well.
Level 4: Mastering Social Engagement
Level 4 training is all about leveraging social media to improve your branding and to get additional traffic.
They also teach you how important getting conversations going on your site from your visitors' comments is for SEO.
To be honest, in my opinion, they only scratch the surface of social marketing, but I think this is a good thing.
Actually the last lesson of level 4 is about "You cannot be a master of everything" i.e. you sh