Is Lucky Day App legit or a scam? Read my review for answers.
If you have been looking into smartphone apps that could produce income, you have probably heard of Lucky Day. Apps that promise prices or money are very popular these days, but most of them are nothing more than a waste of your time in my opinion.
Similar to AppNana, the Lucky Day app offers you tokens in exchange for actions but the main attraction is the lottery drawings that have money prices up to several hundred thousand dollars.
But does Lucky Day App do what it promises? Read on to find out my opinion.
AppNana Review
Company: Lucky Day
Product Name: Lucky Day Smartphone App (Android)
Product Type: Free lottery app for iOS and Android
Profit Potential: Significant (but very low probability)
My Score: 2/5
Summary: The Lucky Day app is not a scam as far as I can tell. It has had some problems with reaching the minimum payout limit of $10 according to third party reviews. But Lucky Day displays payouts publicly, so there is no doubt that some people are winning significant money.
The reason for my low rating is that in my experience and according to my research the actual likelihood of making significant income with the product is minimal. The app can be fairly addictive as well in my opinion, making you believe that you are doing something productive with your time.
It accomplishes this by using inflated "tokens" as prices that you get at almost every turn. In short, this makes you feel like you are winning when you are actually just losing precious time.
In my opinion, This time can be used to make something productive, like creating an actual income-producing business, even without prior experience.
If you are interested in learning how to create a successful online business, check out my recommendation below!
Introduction
Before we continue, I want to be completely honest with you and point out that I'm in no way affiliated with the Lucky Day app.
Since one of the main ways to earn tokens with this (and similar) app is by recruiting people, I want you to know I have no intention of sharing my account to try and get you to join. I'm not writing this post to get people recruited in the system.
I did try out the app and read through a ton of reviews so I'm basing this review partly on my own experience and partly on third party information. It represents my opinion.
Since I have tried the product but I'm not endorsing it, you can rest assured that my review is fairly unbiased. But I also want you to know I have products I do recommend myself.
If you click on any of the links to products I recommend, they are usually affiliate links. This means I will earn a small commission if you end up buying the product. So I have my own financial incentives.
That said I only recommend products that offer you the best possible change for creating income. Your trust is my most valuable asset after all. I win nothing by recommending products that don't work, just to make a commission.
That's why I want to be completely honest about this and I want you to make the decision if you want to trust me. I have no will or need to try to persuade or scam you.
Now that we are on the same page, let's get on with the review!
What Is Lucky Day App About
So what exactly is the Lucky Day App? It's essentially a virtual casino game that offers you the chance to win actual money prices for free. So no wonder it's popular.

"Lucky Day gives everyone the chance to win real money by playing daily raffles, sweepstakes and lotto that are quick, entertaining and 100% free." - Lucky Day website.
​You earn "tokens" in the app for the actions you make. You can use these tokens to get more raffle tickets or turn them into physical prizes through Lucky Days partners.
There weren't any rewards at my location, so I didn't try this feature. More about this under How Does Lucky App Work.
The app offers you the possibility to win free tickets every day. These tickets can be used to participate in raffles, lottos, and other games. You can also try and a win more tickets and tokens by using tokens to play scratchers.
You can also earn tokens by watching videos, which are basically ads from their partner companies. I would guess this is how they make money themselves, but I have no way of confirming this.
As far as I can tell the app is currently only available for Android on Google Play store and for iPhone on the Apple Store. It doesn't seem to have a browser-based app to use with Windows for example.
So now that we have a general idea what the app is about, let's look at how it works exactly.
How Does Lucky Day App Work
I tested the app on my LG G6 so this experience is based on the Android app.
The first step is to naturally download it from the Google Play store. You can find the app by searching for Lucky Day in the store.
Once you have the app installed it's time to open it. On the first launch, the app will ask you to create an account. You can sign in by using an existing Facebook or Google account.
I simply chose an active Google account on my phone. Simple enough.
Right after I logged in I was greeted with a scratcher. I scratched it and what do you know, I won a whopping 25,000 tokens right away. Talk about lucky! (That's sarcasm in case it's not obvious...)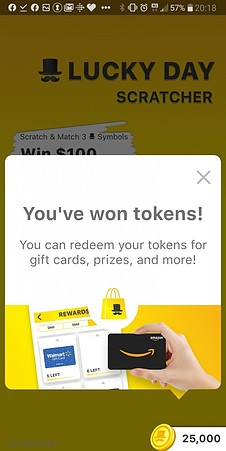 Right after the scratcher, I was offered to join the lotto with a jackpot of over $300k. I actually would have liked to look around the app a bit but it didn't seem to let me get past the lotto so I picked a quick row.
After that was complete, I finally was able to explore the app. On the main screen you will find your daily free offers as well as games you can use the tickets on.
On the left-hand corner you will find a dropdown menu with additional features and on the right-hand corner you will find a friend invitation menu.

Under the friend invite menu, you can send invites to your contacts on your phone and you will also find your Lucky Code. You get 100,000 tokens for each friend that joins.
I don't really know what happens if you share the code with your friends. If it's like a similar app AppNana it's basically your affiliate link. This would mean that sharing it with third parties would earn both you and them some tokens.
Under the left corner menu, you will find your profile settings and your earnings. You can also redeem rewards and cash, check the leaderboard and adjust your settings here.
The profile is pretty self-explanatory. You can ad a picture of yourself and you can see how many scratchers and lotteries you have played and how many raffles you have entered.

Under the Redeem Rewards menu you can, not so surprisingly, redeem rewards and under Redeem Cash you can redeem cash.
I didn't use the app enough to win any actual cash, so I didn't even try that feature. As far as I can tell, they will pay you straight on your PayPal account which is ofcourse convenient.
I did try the Redeem Rewards which asked for my location. When I allowed it, this message turned up:
I wasn't really surprised since I live in Finland and these are apparently physical products. I had to go to the FAQ under settings to find out where you can actually redeem these rewards.
I simply found information that the rewards are local and not available everywhere. But cash can be redeemed anywhere to your PayPal.
Apparently the rewards can be anything from gift cards to pet toys and fashion accessories according to the FAQ. An important thing to know is that tokens can't be exchanged for cash. You can only use the to but tickets or the rewards.
So under the settings menu, you can find your account settings like password change and you can delete your account. There's also the FAQ and contact support form.
The final feature on the left side menu is the Leaderboard.
You must be thinking at this point if anyone actually wins any money through this app. At least I am.
To my surprise, the leaderboard doesn't tell how much people have won money. It just shows who has earned the most tokens. This starts to feel suspicious to me.
But here's the thing. There's actually a bottom menu as well on the app! A bit confusingly you can find the actual money winners under there: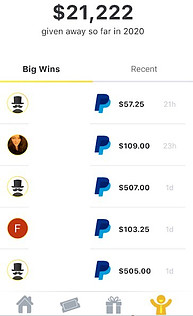 There you can actually find the amounts they have paid out recently and the total amount the have paid this year. Like you can see from the pic it's over $20k and it's just a couple days in to 2020.
So that's a bit relieving. That's the best Lucky Day app payment proof I could find. They actually do payout to people and the prizes seem to be real. At least the smaller ones.
So how about the actual games?
Lottery:
The biggest game is the (apparently) daily lottery. You simply choose your numbers and you can participate in the lottery. Just like the regular lottery, your winning depends on how many numbers you get right.
The jackpot was over $300k when I was writing this so definitely significant money.
Raffle:
These are daily raffles that you can participate in with the tickets. They range from a couple of hundred dollars to several thousand dollars.

Scratchers:
The scratchers are faster games you can play for either tokens or moneys. I tried a few that had cash prizes but all I won was more tokens.
Other actions:

You can also earn tokens by looking at ad videos from their partners and by filling surveys. Like I stated previously, you can also earn tokens by inviting your friends.
So as you can see there are a lot of things you can do within the app to earn tokens and to try and win cash prizes.
But the real question is: Is Lucky Day app real? Is it legit? Is it worth your time?
Is Lucky Day App Legit
So is Lucky Day a scam or is it legit? I honestly think it's not a scam. It seems to do what it promises: Offer you the possibility to win money and it's free to use.
There definitely seems to be people who have won hundreds or even thousands of dollars through the app. They disclose how much they have paid out on the winners-page after all and even the amounts per user. I don't think they would get away with scamming here.
But here's the catch. It seems that the likelihood of winning is really small. Just like in a real lottery.
I found reviews and discussions where people had used the app a lot and only won a few dollars. It's seemed to be a common theme that people were winning a few dollars but couldn't get the minimum $10 limit no matter how much they played.
That is definitely suspicious but it just might be how the system is built and it doesn't mean the larger wins aren't real. In my experience real casinos work like this as well.
So I think the app is legit but the odds of winning are small. The real problem here is that it's very time consuming and to be honest, in my opinion addictive.
Many apps like this use tricks that make your brain think you are winning something substantial and doing something productive with your time.
These include the very high numbers in the tokens, that are just virtual currency for the system. 5000 tokens sounds and feels a lot higher than 5 tokens. In reality 5000 tokens in the app is worth next to nothing.
Also, the fact that you win tokens on almost every single time you play something will make you feel like you are winning. This is just a trick to keep you playing.
Regular slot machines use this all the time as well. They lure you in with a possibility of a big win and keep you playing with these small wins.
So once again the app is legit, but not something I recommend. I recommend doing something more productive with your time that can bring in life-transforming income over the long run.
Lucky Day App Experiences
While doing research on Lucky Day app I stumbled upon this Reddit discussion. In short, they are talking about how they suspect the game is rigged so that you will never reach the $10 minimum for payouts.
One of the users claims that their friend didn't get paid for a $2000 they won in the app. First, they got an email stating they would receive the payment in 7 days and then received an email stating it was a glitch.
Of course I have no way of confirming if this information is true as it's a third party claim so definitely take it with a grain of salt.
The app has over 800 000 users with an average rating of 4.5 stars out of 5 so there are bound to be some negative experiences as well.
That said I found similar experiences in Google Play Store reviews. Many people were getting close to the $10 dollar limit but never reaching it.
Also, people were complaining about how they were never able to redeem the rewards because they were always sold out. To be fair Lucky App answered most of these complaints that the rewards are stocked every 90 minutes and some sell out fast.
I couldn't help to wonder if there was actually some sort of app or cache glitch with some of the users, preventing them to see the updated inventory in time. No way to really tell.
My Theory On How Lottery Apps work
What will follow is my theory on how "lottery" or "money-making" apps like this work. This is not based on fact, I'm speculating and I'm not claiming the Lucky Day app works like this.
You must be wondering how are they able to give out money prices when the users don't actually pay anything? Regular lottery and raffles typically require a participation fee after all.
In a typical lottery, the odds are way against you but the price is so high that people are willing to pay for the chance to win it. Lotteries of course always produce more income through the fees than they payout. At least on the long term.
But since there are no fees involved with lottery apps. How do they work? Charity? Guess again.
The secret is in the large user base and the ads you watch to earn virtual currency in these systems. Companies pay good money for ads like this. Especially the ones that are targeting gaming audiences etc.
To make the system profitable, you just have to make sure the income from the ads is larger than the payouts from the system. Since they have total control over the system
To get people to stay in the system you need to pay out just enough to keep them interested. To make the system more enticing, add the inflated virtual currency.
These apps rely on basic and very strong reward mechanisms within your brain. When you win a ton of virtual currency, you feel like you've accomplished something. Your subconscious can't differ them from actual money prices.
So you get people hooked with the "free" possibility for winning money, deploy some addiction inducing tactics, get advertising partners and adjust system so
What you, the player actually pay with is your time. The unfortunate truth is that some people get very easily addicted to games like these. They simply can't stop. This is why gambling and slot machines are such a huge problem that many countries are banning them all together.
Even the average user will lose precious time that could be used to do either something productive or something they actually enjoy.


My Recommendation
My recommendation to you is to use your time like it's the most precious asset you have. Because it is. You can't get more time.
Since you are interested in earning money with your time, my recommendation is to use your time into something that can produce life changing income.
If you checked that link it's into a community called Wealthy Affiliate. They teach you how to create an online business through SEO and affiliate marketing.
The business model can be used to create a successful business in almost any niche.
The best part is that you don't have to leave it to chance either. What you put in, you get out. It takes work and determination to succeed in online business.
But the ultimate prize is financial independence and no need for dreaming about that lottery win. It doesn't take much to get started either. You can in fact get started for completely free.
I created a completely free 7-day guide for you to get started with creating your online marketing business. I'll show you the exact steps I and thousands of others have used to create a successful online business. I will also help you avoid all the common mistakes which will save you a ton of time and frustration.
Helping you succeed is my passion, so I want you to know that you will have my full support if you decide to join the course.
You can contact me anytime and ask me anything and I will do my best to help you out. Today or a year from now, doesn't matter.
The course is very easy and actionable, but I'm not going to fool you. It's not a get-rich-quick scheme. This is a legit business opportunity that can change your life but you will have to work for it.
You will also have to eventually invest some money to get your websites hosted and all the basic tools like keyword research tools etc. Wealthy Affiliate covers all that and an excellent step-by-step training.
And it's not thousands, that type of stuff is for pyramid schemes. WA is very affordable for what you get and you can easily earn it back and then some during your first year.
Just think about it:
If you are playing mobile games for an hour a day, you could actually build a succesfull business with the same time investment in a year's time.
That's the bare minimum realistic time it takes to see real results. But if you have time to spare and are ready to hussle, you can't see significant results much faster.
A year worth of work sounds too much? Beware that time goes fast and the actions you take today will form your future.
So it's up to you to decide if you want to keep playing games or invest in your future. Get started today and change your future for the better! Keep playing games and nothing will change.
Conclusion
I hope you found this Lucky Day app review useful and it answered all your questions. If you have any questions don't hesitate to contact me in the comments section below.
So is Lucky Day app legit or a scam? No, I don't think it's a scam. I didn't find any evidence suggesting they aren't actually paying out the cash prices.
That said, you kinda have to keep in mind that you get what you pay for and this is a free app. So don't expect much.
All that said, I can't recommend this app or any similar app to anyone really. Why? Because you could be doing so much more productive stuff with your time.
Even if you don't care about doing something productive, which I fully understand, at least do something really enjoyable. If you are into playing games with your smartphone, don't skip a game you enjoy just because you think you are doing something productive with this app.
So if you need money, do something that actually produces it. If you just want to pass your time, so something you truly enjoy.
Heck, If you like gambling and don't have a gaming problem I would recommend going to a casino instead of these apps.
At least you have to socialize a bit and have an actual chance of winning money. (I don't seriously recommend gambling to anyone, just so that we are clear).
If you truly enjoy the excitement, don't have a gambling problem AND don't have any expectations to make any real money, I guess there's nothing wrong with using this app.
Just beware that you are actually paying with your time and subjecting yourself to constant advertising.
That's it for today! If you liked this post, please share it on social media, bookmark my site and join my newsletter.
See you next time!
I've reviewed Similar Products you might be interested in: