Thinking about joining Primerica? Is Primerica a pyramid scheme? Read this post before doing anything.
Primerica Video Summary
If you prefer video over reading, I made this short video summary of Primerica. It should answer most of your questions about Primerica being a pyramid scheme.
If you are thinking about if Primerica is legit or a scam, the chances are that you have seen their ads or one of their representatives has tried to sell you their products or tried to get yo join their MLM program.
There are a ton of MLMs and pyramid schemes out there just looking to take your money in return for false promises. But is Primerica one of them?
I will save you a ton of time and tell you right of the bat, that no, Primerica is not a pyramid scam. They are a legit well-established company that uses a multi-level marketing business model to increase their sales.
If you are in a hurry, here's the scoop:
Primerica Review Summary
Company: Primerica
Product Type: Insurance and investment products / MLM business opportunity.
Profit Potential: Full time income
My Score: 3/5
Summary: Primerica is a legit company with a long track record. They do use a multi-level marketing business model but they are definitely not a pyramid scheme.
Legit MLMs and pyramid scams have a few key differences. The most important one being that every sales rep should be able to produce income without recruiting new people into the system. Primerica accomplishes this.
That said, I don't think Primerica is a very good business opportunity, but they might be able to provide you with a competitive pricing for a term life insurance, which is their main product.
For earning an income, there are simply better opportunities that cost less to start and don't require you to recruit people or to bother them with sales pitches. You can find my top recommendation below.
Pros of Primerica
Here are some things I especially like about Primerica:
Legit products. Primerica has offered term life insurances for decades. You can think of the insurance terms what you like but they would have been out of business a long time ago if their products weren't at least adequate.
Long track record. Primerica has been operational since 1977 in some form and has a BBB rating of A+. This would not be possible with dishonest business methods.
Reasonable starting costs. It costs you $25 per month to become a distributor. You also need to pay $99 upfront for the sales license and background check but this is apparently refundable. Compared to many other MLMs this is dirt cheap.
Cons of Primerica
And here are some things I don't really like about Primerica:
It's an MLM. Even though it's not a pyramid scheme it's still an MLM system that basically requires you to recruit people and pester customers with sales pitches. It usually requires to be pretty pushy to see real success with MLM. Many people find this annoying and often feel pressured afterward. That's of course just my experience but I just personally think there are better business models out there.
It requires a lot of knowledge. The insurance field requires a lot of knowledge in rules, laws, and regulations. You also have to have a good understanding of the financial industry. Now there's nothing wrong with requiring knowledge but I think it's a bit much (and to be honest legally risky) in relation to the realistic income potential in my opinion.
Low Realistic Income Potential. While there certainly are people who are making big money with Primerica, I found some information that 60% of their members fail to make any income. That's third party information, so I can't vouch for that fact but it's very common with MLMs that the vast majority of recruit never make any significant income.
Introduction
I want to be perfectly clear that I have not tried Primerica's program or products myself and I am not affiliated with them in any matter.
I love doing research on online business opportunities and I like to share my findings to save you time. I will also recommend products I do believe in myself and have used to successfully make an income online. It's my mission to make you succeed online.
When I recommend a product it pretty much always contains an affiliate link. If you buy a product through an affiliate link, I will earn a small commission without any
I never recommend products I don't truly believe in. You are my customer and your trust is my most valuable asset. You can also ask me anything about the products I recommend and I will offer you my full support. Good?
I'm presenting this post as an opinion based on research I've done online on the company. I went through a ton of reviews and discussions about the company to find out the truth. And I'll share my findings with you in this post so you can make an informed decision.
If you've been looking at Primerica reviews you will soon realize the opinions about Primerica are very contradictory. Some think it's very good and others warn you against it calling it an outright pyramid scam.
As usual, the truth is something in between. It took some serious investigation to form an educated opinion about the company.
As usual most of the reviews out there are exaggerated in one way or another because they are basically sales pitches for either the Primerica products, their MLM program or for some other product.
If the reviewer is affiliated with Primerica, they will praise it and if they are affiliated with some other product, they will likely bash Primerica and recommend their product instead.
I, of course, also have a financial interest as I partly monetize this site by recommending products I believe in. But I trust the products I recommend so much that I won't push them to you. I'll leave it up to you to make an informed decision.
I just wanted to share this with you, so you can keep your eyes open when reading reviews online. Many times things are not what they seem at first glance.
Now that we got that out of the way, let's look at what exactly is Primerica and how are people making money with it.
What Is Primerica
History
Primerica is an American company that was formed all the way back in 1977, so they are definitely not new to network marketing.
This is of course a good sign as most dishonest and scammy pyramid scheme companies can only stay ahead of the curve for a few years before their reputation catches up on them.
If a company stays in operation for several decades, it has to build a lot of trust and a solid customer base. In Primerica's case enough to be listed publicly in New York Stock exchange.
It would be virtually impossible for a dishonest company to stay in operation for this long and be listed, so you can rest assured Primerica is a legit, trustworthy company.
But there's more to the history. It was founded by a man called Arthur Williams. After Arthurs father had died out of a heart attack in 1965, he learned for the first time that his family had been basically uninsured due to a bad life insurance of his father.
Arthur learned about the concept of term life insurance, which is arguably much more affordable than whole life insurance. The problem was that people didn't really know about this option back in the day.
This was the first step of Primerica. Williams started to sell term life insurances very successfully and soon grew tired of working for regular insurance companies that had limiting corporate structures.
In 1977, he formed A.L. Williams & Associates which had a simple philosophy: Buy Term and Invest the Difference.
The ingenious idea was that regular Joes could invest the money they saved from buying term-life insurances instead of whole-life insurances.
They could invest the difference into mutual funds, real estate, annuities or anything really to build long term passive income.
The company gave financial incentives to its sales force and eventually settled on the MLM business model.
In 1980 A.L. Williams teamed up with MILCO, which was a subsidiary of PennCorp Financial. Penn corp in turn became a subsidiary of the American Can Company in 1983.
Four years later the corporation changed its name to Primerica. But that's not all!
Primerica acquired several more subsidiaries until 1988 they were acquired by Commercial Credit. But they kept the name Primerica!
In 1989, Primerica became listed in the New Your Stock Exchange and changed its name to Primerica Financial Services which was later shortened PFS Investments Inc.
Sometime later Primerica acquired Travelers Insurance and became known as the Traveler Group which merged with Citicorp in '98 to create CitiGroup.
In 2010 Citigroup sold Primerica through initial public offering. Currently Primerica is owned by several large financial companies.
So as you can see, the company has had quite a past but it's still going on strong and with the original blueprint of A.L.Williams.
But is it a profitable one for you? Let's look at the products to find out.
Products
Primerica sells mainly insurance and financial services that are targeted to middle-income households in the US and Canada.
Their definite main product seems to be the Term Life Insurance. They have a very good track record of paying more than 90% of their insurance claims within two weeks.
Term Life Insurance
Their main product is their term life insurance which they offer with varying coverage. They do not offer whole life insurance or other plans so the term life insurance is truly their bread and butter.
They do however offer two different term life plans. Custom Advantage and TermNow. Apparently the main difference is that Term now has the maximum death benefit of $300k and doesn't necessarily require a medical exam. This of course means it's more expensive.
Primerica offers 10-year, 15-year, 20-year, 30-year and 35-year terms for the term life insurance. The longer 30-year and 3-5-year options guarantee premiums only for the first 20 years though.
At an insurance and finance review site ValuePenguin they have given Primerica a rating of 3.0/5.0.
The good sides of their insurance plans include the standard term life insurance, no medical exam for less than $300 000 insurance coverage and a large network of local agents.
The cons include average premium prices, no option for permanent insurance and pushy sales tactics that are typical for MLMs.
They also compared the term life insurance against 50 other insurers and found that Primerica ranged 11% to 29% more expensive for the same coverage.
I thought this was interesting, especially if you are considering becoming their sales rep, since their key sales point is that they offer superior term life insurances.
Other Products
Besides the term life insurance plans Primerica offers several other kinds of insurances, including car, home and long-term care insurances.
They also offer personal finance vehicles like annuities, business retirement plans managed investments, etc.
It seems they also offer services like legal protection and ID theft protection through their partner, LegalShield. I'm not sure if these products are available to all reps though.
Finally they offer a DebtWatchers program that is meant for credit monitoring, budget management and other things to help people with significant debt to pay out their loans.
That's their product categories in short but you are probably more interested in the affiliate/distributor program so let's check that out next!
How To Become A Rep/Distributor for Primerica?
So how does the Primerica MLM affiliate/associate/distributor (or whatever you want to call it) program actually work?
You start the process by applying to become
To become a sales rep for Primerica you will have to go through a screening process that involves a background check and
To get started with the program you have to actually pay the $99 upfront. This payment includes your Sales License and a background check.
If you pass the background check, you will be accepted as a Sales Representative for Primerica. This includes a $25 dollar monthly fee to access their marketing platform and tools.
This will also include training and marketing material that will help you get started with your business.
Having background checks is both a good thing for credibility but apparently also a legal requirement for people who are selling insurances in the US.
This is why becoming a Sales Rep for Primerica also requires you to become licensed. This means you will have to study and take a licensing exam.
From what I could find out, it typically takes about three months to get the license. Keep in mind that you will be paying the $25 dollar fee during this time and can likely only market some of the products.
I'm not sure if you are allowed to recruit other people during this time though.
"OK, that's nice. So how do I actually make money with Primerica?"
There seems to be two ways to make money with Primerica.
You can act as a distributor to sell their products directly to consumers.
You will earn a commission from your sales, so it's basically affiliate marketing or like being a salesperson for a regular insurance company.
Of course, they only offer you the products and marketing material. You will be your own boss, in good and in bad.
If you could automate this process through online channels, you could probably make living doing it. Selling face to face is probably not going to net you high enough of an income in return for your hard work.
Unfortunately, I couldn't find any information if you can market Primerica online. Fortunately, there are a lot of better options for that.
​

Recruiting people on your down line and help them recruit more people on their down line.
This is where the real money is made with MLM systems and this is why pyramid schemes are so profitable.
You don't only make money on the people you recruit but on the people, they recruit as well. If you understand even a wee bit of math you will realize the down line grows in an exponential manner.
So even if you earn a very small commission from the people on your down line, it can add up really fast if you are high up in the network as you can have thousands of people on your down line.
What is a "down line"?
Network marketing or MLM is based on the fact that you don't only earn commissions from direct sales but you also earn commissions from the salespeople who you have recruited. And even from the people they recruited, depending on the system. I did find information that Primerica is an 11-tier system, meaning you will earn commissions 11 levels beneath you.
You recruit and the people they recruit are referred to as you "downline". Essentially the term describes everyone under you in the network or a pyramid. Vice versa upline means the people above you.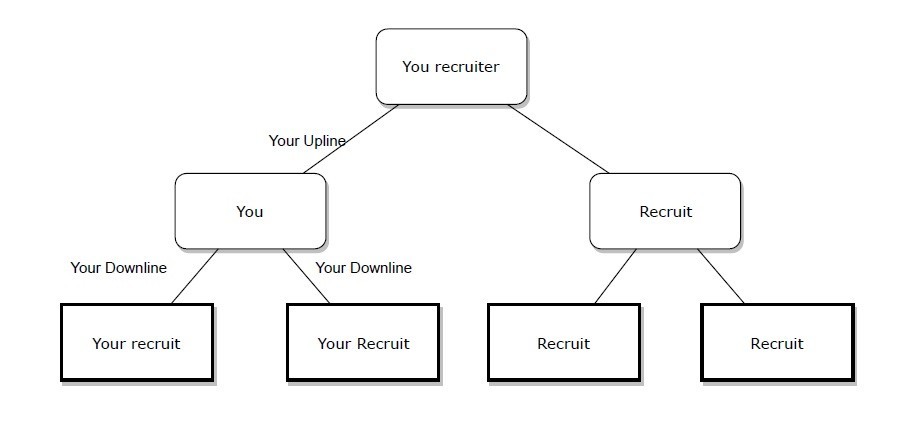 There seem to be several ways you can earn a commission from Primerica.
You can earn sales commissions from selling insurance plans. You earn a commission depending on your level as we established a minute ago. You will also earn a 10% override on downlines insurance plan sales.
You can also earn additional commissions by supporting your down line by helping them make more sales. This will allow you to earn differentials from your downline's sales.
Finally, you can earn commissions by selling Primericas other products we talked about in the previous chapter.
How Well Does Primerica Pay?
This is probably the information you are looking for the most if you are thinking about applying to become a Primerica representative.
So how good is the Primerica Compensation Plan? Well, I'm going to have to disappoint you. Primerica seems to have a pretty strict policy of not giving online quotes on insurance plans.
The same principle goes to their compensation plan. They don't disclose it anywhere online as far as I can tell. But I did a little digging around.
Keep in mind this information is from third-party source so I have no way of verifying the accuracy.
When you become a Primerica distributor you will be an entry-level representative. Keep in mind, most people on most MLMs don't make it past the lowest level so it's pretty important to know your income potential at the start.
Like we already established, you need to become licensed before you can sell the products. If everything goes well it takes about three months. During this time you won't be able to sell any of their products.
So at the very beginning, your commissions will be very low because you can't sell any of their main products like insurance and investment products until you are licensed.
This video by Demetrius Pyrd explains the whole process pretty clearly:
So summarizing from the video:
As a regular beginner sales rep you will earn a 25% commission. From the information I could dig up it seems that this for the first premium or a yearly payment for an insurance plan.
Once you recruit three people into the system you will become a senior rep. At this point, the commission goes up to 35%.
Once you are licensed, have three recruits and have made for life sales, you will apparently become a district rep. At this point, the commission seems to be 50%.
Apparently being a district rep is the point when you are allowed to do direct sales by yourself. There are higher levels but I couldn't really find information on what it takes to get to those levels. They include:
Division leader (60% commission)
Regional Leader (70% commission)
Regional Vice President (95% commission)
Senior Vice President (95% commission)
Let's presume you will stay on the lowest three levels indefinitely. How many sales would you have to make to earn a living? Well, the answer is a lot. Unless you can somehow get a ton of proficient salespeople in your downline.
It seems that as a regular sales rep, you can expect to make a couple of hundred bucks for a 25-year plan. You would need to sell a premium plan pretty much every day to make a full-time income. I'll leave it up to you to decide if this seem realistic. Feel free to point out if my math is way off, I just estimated it based on the commission percentages and typical insurance plan prices.
Primerica Reviews
I checked out a ton of reviews about Primerica at Consumer Affairs. Here's the rundown:
Their overall rating is just a tad over Three Stars out of Five Stars. So nothing alarming but not remarkable either.
From the 464 reviews on the database, the vast majority were 4 stars.
The five star and one-star reviews are always the most interesting and give a good glimpse of the extremes of customer satisfaction. I read a lot of them and here are some common themes.
One star reviews:
Very bad/unprofessional experience with a sales representative
People got billed $99 on their card when they thought they were being interviewed for a job
Payments go very high once you are a senior
Expensive fees
Five-star reviews:
Professional sales representatives/agents
Well explained insurance terms
No need to reprove your health when you renew after 65
Very competitive prices
All and all it seems like there is nothing too alarming in the reviews but the negative reviews are a bit disconcerting. But keep in mind that any company this big will have negative reviews as well. It's just inevitable.
It still seems most of the negative reviews are about the unprofessional behavior of the sales rep, something that is very common with MLM.
Every rep is an individual and the company can do only so much to screen and train their sales reps. In MLMs, there is more pressure to recruit people in so it's inevitable unprofessional people will end up in the system as well. Unfortunately, it's the customer that often pays the price.
So, Is Primerica a pyramid scheme?
If you made it this far I think it becomes rather obvious that Primerica is definitely not a pyramid scheme or a scam.
It's very common that the MLM business model makes people automatically think a business is a pyramid scheme.
But there are some key differences between a legit MLM company and a pyramid scheme. For a company to be a pyramid scheme, there wouldn't be any valuable products to sell that add value to the members.
Pyramid schemes typically require you to pay to get into the system. Primerica does this. But pyramid schemes focus on recruiting new members into the system instead of focusing on selling legit products.
It's very clear that Primerica is built around selling their legit products and the MLM business model is just that, a business model. They could be selling their products in a more orthodox manner but they have probably found that MLM is great for motivating the sales force.
The telltale signs that Primerica is not a pyramid scheme are:
They sell legit products
They don't focus on recruiting
You can earn your initial investment back without recruiting anyone
You don't have to invest unreasonable amounts of money to get into the system
That said there are some of the negative sides of MLM that are similar to being a part of a pyramid scheme. These include:
To make serious money, you will need to recruit new people
Reps above you can use aggressive sales tactics to pressure you to recruit more people
You do have to pay in advance to become a distributor even though the payment is reasonable compared to actual pyramid schemes.
Those are very common issues with MLM systems that you just have to accept if you want to go with pretty much any legit MLM company.
Of course, those same annoyances will be included in actual pyramid schemes but the difference is that you don't actually have any chance for success unless you are willing to scam people. It's also illegal, so definitely something you should consider.
So, Primerica is not a pyramid scam but it's definitely not something I would recommend either. That's because there are better ways to work on your own terms. If you are interested I'll show you just how I make money in the next chapter.
If you are interested in how MLMs and pyramid schemes work, be sure to check out my articles "Is Prosperity of life a scam?", "Income Shift Pro Reviews" and "Is AppNana a Scam?" as well!
How I Earn Money Online
So Primerica is definitely one way to work for yourself. But keep in mind that you are still essentially working for a single company. You are dependent on them.
What if I told you there was a way to create a business of your own that allows you to earn a sustainable income no matter where you are?
And the best part is that it can be automated almost completely.
Just think about if you could:
Work anywhere in the world with an internet connection
Take a long break from working on your business without losing your income
Work at any time you like. During office hours, at night, at bed in the morning.
Work on topics that are of personal interest to you. Maybe even your passion.
I'm talking about SEO (search engine optimization) based online affiliate marketing.
The great thing about affiliate marketing compared to most MLM systems is that you don't have to recruit anyone to make money.
This business model also allows you to create a sustainable business in almost any niche if you know the tricks. So you have complete freedom to choose what you want to market.
The basic process is pretty simple but the details take a lot of work and experience. That's why it very wise to start by getting some training.
Here's the good news! I can teach you, step-by-step how to get started and avoid all the beginner mistakes. I created a very actionable and clear 7-day course that will help you build the foundation for your business.
The best part is that it's completely free! There are no hidden costs of any sort. You can finish the course and have the foundation set up in a week from now.
The course is based on Wealthy Affiliate so if you want to become serious about your business, you will have to invest in the premium subscription. But you'll have the whole week to see The worst thing that could happen is that you learn something valuable.
The reason I share the course with you for free is that I want you to succeed! I believe in the system so much that I will never try to actually sell it to you. I just want you to check it out and make up your own mind if it's an opportunity that's suitable for you.
I just think this business model is superior to others and WA is the best and most cost-effective place to learn about it.
So if you have any interest in learning this stuff, please take part in my course. As a bonus, I will give you my full support. You can contact me anytime at Wealthy Affiliate or by replying to any of my emails.
I answer every single message and honestly want to see you succeed, it's what drives me, so don't hesitate to hit me up if you feel stuck or want to ask something about online business!
Conclusion
Phew! That turned out to be a long look into one of the oldest insurance MLMs that's still in business. To summarize the long post: Primerica has definitely earned it's place and it's a legit company.
Even though it uses network marketing as it's main business model it doesn't fill the criteria of a pyramid scheme or a scam.
This is because every rep or distributor can earn an income by selling their products without recruiting anyone. Pyramid schemes depend on recruiting.
That said it has the annoying side effects of an MLM, including the necessity of recruiting people if you want to earn a significant income.
This is also where the true income potential with Primerica exists. If you can recruit enough people on your down line, you can earn significant commissions from their 11-tier system.
But the unfortunate reality is that you will have to pay upfront to join the program, get certified and pretty much sell door to even earn a basic income.
Most people fail with MLM and I have no doubt it's the same with Primerica. It's, of course, great they require you to have background checks and get certified but it seems a bit much for the probable income potential at the beginning.
I would recommend you think twice before going with any MLM program. Even one with a very long track record and legit products, like Primerica.
There are simply better options that allow you to automate your income over time and don't require you to pester people with sales pitches and recruitment offers.
That's it for the day (OK, honestly took me a couple of days to write this...) it's time to wrap this up!
If you enjoyed this post, please subscribe to my newsletter and free course, bookmark my site and share in social media! Who knows, you might save a friend from an MLM!
See you next time!
I've reviewed Similar Products you might be interested in: