Welcome to my BTCSurveys review. If you are wondering is BTCSurveys legit or a scam, read on!
BTCsurveys Summary
Product Name: BTCsurveys
Product Type: Survey site
Product Price: Free
Summary: BTCsurveys is a brand new survey site that promises to pay you in BTC aka Bitcoins aka Satoshis in exchange for answering surveys.
BTCsurveys seems to be legit even though it's very new so it's hard to tell how it will turn out in the long run. For now there are legit testimonials that show they pay out the Bitcoins you earn.
I can't personally recommend spending your time on survey sites because it's time consuming an you earn next to nothing.
I know for a fact that you can earn a lot more for a similar time investment so it just makes no sense using them. You can check my recommendation for the best way to make money online through the button below.
First of all congratulations on taking the time to research. While it usually doesn't possess a significant financial risk to join a survey site as they are free, you can end up losing a lot of time if it turns out to be a scam.
That's why it's wise to do your research before starting so you don't end up wasting your time. This is especially important if the service you are planning to use requires you to pay for something.
My aim is to help as many people as possible to earn an income online. That's why I check out different money-making opportunities and publish my thoughts on them.
You see, there are tons of ways to make money online with different kinds of income potential, investment requirements
My aim is to show you the ways most people should be able to afford and that can produce life-changing income. Simply because these opportunities do exist and I don't recommend you settling for anything less.
In general survey sites, money-making apps and similar services that require very minimal effort or skill are only good for beer money. But if you live in some part of the world where a single $1 is a big money, they can help you out fast.
Bitcoin is, of course, a great way to pay for these services because it can be used all over the world and changed to any currency.
What Is BTCsurveys
Ownership
BTCsurveys is a survey site that pays in Bitcoin. The company behind BTCsurveys is called Belacam, Inc. which is part of The Ambia Fund, LLC.
Belacam is actually a make money online social earning platform that says it's just like Instagram (Reminder to self, review this site...) except that it pays you for social functions apparently.
I couldn't find much info about Belacam, Inc. other than it's based in Charlottesville, Virginia. It's formed in 2016 and the CEO of the company is Tyler Marx.
The Ambi Fund, LLC is the mother company and seems to have even a smaller digital footprint. I couldn't actually find any information on the company online.
So it seems there are real people and companies behind the product but they are definitely not very well established in the online world as the information.
The fact that Belacam has been around for about 4 years and that there is a real person as the CEO is a promising sign for BTCsurveys.
I would still prefer they would have a page on their website about the actual people behind BTCsurveys.
What It Does
So as we established, BTCsurveys is a survey site. If you are new to surveys sites the idea is that you fill surveys for companies and you get paid small change for it.
BTCsurveys surveys take about 2 to 15 minutes to fill out and you can earn between $.02 to $3 in BTC per survey.
If you are wondering why they pay for filling in surveys they, of course, have sponsor companies that offer the surveys. They are doing customer research which is worth the money for them.
While I personally think paid surveys are a kind of biased way to get consumer information because people are paid to do them and might not really care what they fill in but I guess they find them useful since they are willing to pay for them.
For the user, the only question is usually if the surveys are easy to fill and if they actually pay money.
BTCsurveys promises to match you with brands that are interesting and want to hear from you and I saw them using Tesla as an example for asking what Europeans think of Cybertuck.
The company gets paid in USD by the client companies that provide the surveys and they pay you with a near equal amount of Bitcoin. They, of course, take a small share as that is where the company actually makes money.
BTCsurveys is still very new but they have announced as upcoming features referral programs that will pay you for recruiting people into the system. They also plan to publish a better design for mobile devices and small laptops.
Currently, their surveys are available in 53 different countries. They have a flat-rate .00002900 BTC withdrawal fee to cover transaction fees. They don't have an additional minimum withdrawal limit, you just have to cover the fee.
How Does BTCsurveys Work
If you have used any survey sites BTCsurveys is pretty standard except that it pays in BTC.
The interface is super simple and consists of the main screen that shows the available surveys and how much they will pay. You can sort surveys by best math, length, and reward. Pretty straight forward!
On the left, you will see your current balance, rank and amount of users. There is also access to additional pages that include referrals, leaderboards, your profile and withdrawal.
You access the surveys simply by clicking them. Once the survey is completed, you will be paid in Satoshis on your BTCsurvey account.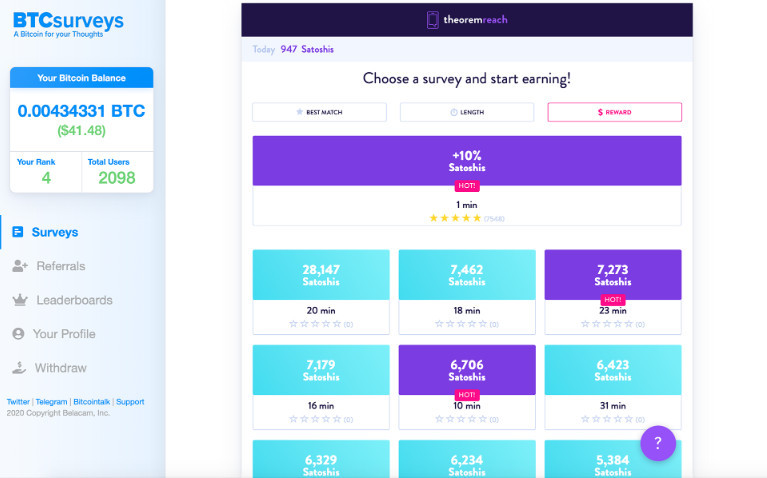 You can see the interface and how the payout to BTC works in action in this video by Jacqueline Stiedenroth:
How Much Money Can You Make With BTCsurveys
BTCsurveys does disclose that in America the earnings can be as high as $8 to $10 per hour but the earnings vary by country as do the surveys.
You have to keep in mind that these figures likely present the optimal situation. Usually, the maximum earning potential is limited by surveys available.
Even if you work like a machine you will likely run out of surveys very soon. That's at least the case with most survey sites.
That's why I always tell people that survey sites are not a legit way to earn an actual income. They are a legit way to make SOME money, as in pocket change, but not an actual income that pays the bills, groceries and puts a roof over your head.
That always requires more effort on your part. On the other hand, it doesn't take much skill to fill in surveys so it's easy to understand why people are interested in them.
In short filling surveys and earning a couple of bucks make you feel like you are doing something useful. But tell me, do you work for $8/hour in America? 8$/hour in India might be decent money but it won't probably pay anywhere near that in India.
And that's the real problem with survey sites.
Is BTCsurveys A Scam
No. BTCsurveys doesn't seem to be a scam. They have a legit company behind them and there are testimonials in impartial sources like Reddit that confirm they pay out your earnings.
There really isn't that big risk involved with survey sites anyways because they are free to participate. Of course, you want to know in advance that they pay you so you don't just end up wasting your time.
It seems to be the case with BTCsurveys that they do indeed pay you and in BTC so this isn't something you need to worry about.
But there's a huge issue with survey sites why I don't recommend them to anyone looking to make money online.
Just like with money making apps they are a time trap. They make you feel like you are doing something useful with your time when actually you are mostly wasting it.
You sell yourself short in my opinion if you spend your time using survey sites or mobile apps (like AppNaNa). You are exposing yourself to advertising and working for huge corporations for almost free. They are winning, not you.
Also if you are really strapped for cash, a regular (even minimum wage) job will pay you so much more than survey sites that I recommend you seek employment to pay the bills while your work on your online endeavors.
I recommend you invest a similar time in something that can actually create full-time income or even life-changing income. I'll show you how you can achieve this.
What I Recommend Instead
So what I recommend instead of filling surveys for a couple of hours a day is creating SEO (search engine optimized) content online for a similar time investment.
You can write a post like the one you are reading in two hours if you are proficient. Every single post you have online will work for your
If you want to learn how this stuff works I recommend you join my free 7-day make money online course that will walk you through in creating your own online business.
I put some real effort in that course and it helps you avoid all the common beginner mistakes and sets you in the right direction so you can get working on your own business straight away.
The course is based on Wealthy Affiliate which is a platform where I learned all my skills, just like thousands of other successful online marketers have.
I'm not going to lie to you. It's not easy, but if you follow the training and take action consistently, you will see success and transform your life.
Oh, I almost forgot to mention that the reason people are doing this is that online business will allow you to work from anywhere in the world, get paid over and over again for work you do once and there's no limit to your income potential.
This stuff works on almost any niche by the way. I have another site that's about strength training so you can use your knowledge, creativity, hobbies, and passions to fuel your online business.
If you want to learn a legit and honest way to earn a full-time income online that doesn't involve scamming people or pestering them with joining pyramid schemes, this is your best chance, so don't treat it lightly.
It changed my life and it will change yours if you let it.
Conclusion
I hope you found my BTCsurveys review useful. If you have any questions, feel free to share them in the comments section below and I'll promise to get back to you asap!
BTCsurveys definitely seems to be a legit survey site that pays in Bitcoins. It's still very new as it's launched in February 2020 so only time will tell if it will live up to its name and work in the long term.
From what I've seen, there's no need to be suspicious. But I can't really recommend spending your time filling in surveys for some pocket change.
The same time can be used to create wealth and success with affiliate marketing and content creation.
The thing you need to be aware of is that it takes time to start seeing success with affiliate marketing because your content won't really rank and produce traffic and sales until your website has enough authority.
This typically takes several months of publishing content consistently. But once you do start getting traffic, it will produce your income on complete automation.
That's why I recommend you keep or get a job to pay the bills while you work on your online business. This way you will have a much better chance of succeeding in the long term.
If you found this review useful, please consider sharing it in social media, I will really appreciate the help!
Thanks for reading and see you next time!
I've reviewed Similar Products you might be interested in: