The chances are that you wound up here because someone you know pitched Tranont to you or maybe asked you to come to a "party" or an "event".
That is the typical way people find about network marketing offers. You made the right decision by doing research, that's the only way to avoid scams and pyramid schemes.
If you are new to network marketing, aka MLM (multi-level marketing) or pyramid schemes, the offers might seem very tempting.
If you are planning to go to a party someone invited you to listen about Tranont it's important to know these events are essentially recruiting events.
If you are not careful, you might find yourself recruited in the system and several hundred dollars poorer in the worst-case scenario.
So if you have been contacted about Tranont, definitely read this whole review before deciding if it's something you want to get into.
Tranont Review Summary
Company: Tranont
Product Type: MLM business opportunity in health and welath niche
Product Price: $99 + $25/month
Summary:
​Tranont is an MLM company that seems to be legit. Meaning that it isn't a pyramid scheme and they have actual products they sell instead of making profit mainly from recruiting people into the system.
The products are in the health and wealth business. Meaning mainly supplements that seem to be made with legit ingredients and different kinds of personal and business finance products.
From what I could find out Tranont seems to be on the more legit side of MLMs and there aren't any of the common red flags of it being a pyramid scheme like very expensive cost to join and vague products.
That said, I can't really recommend the business opportunity because I don't personally think MLM is a good business model. The odds are simply against you.
In recommend creating an online business instead. It allows you to earn real passive income without cold selling people or trying to convince people to join the program. You can check my top recommendation for learning to create your own business through the link below.
What Is Tranont
Health. Wealth. Community. That's the company slogan of Tranont. And "Change Life" is another. Tranont is a Multi-Level marketing (MLM) company that focuses on health and wellness products.
According to their website, the aim of the company is to provide instruction, products, and services to help families live healthier lives and reach their financial goals. They are on a mission to change 1 Billion lives.
They apparently believe neighbors helping neighbors to create wealth and improve health. I guess this is the community part of their slogan.
Since it's an MLM company this is probably very true. Just think about how integral part of many American communities Tupperware has been. It's connected to people.
I tried to dig about more information on the story behind the company but they really don't tell much on their website.
According to their LinkedIn page the company has between 51-200 employees. I'm guessing sales reps are not counted as employees but as independent representatives.
The company is founded in 2013 and it specializes in Financial Management, Wealth Management, Health, Digestive Enzymes, Work From Home, Dietary Supplements, Direct Sales.
The company is privately held and based in Lehi, Utah.
Here is their promotional video:
The People Behind Tranont
The people behind Tranont are according to their website are the owner, founder and CEO Lorne Berry, co-founder and COO Russ Losee and Presiden Scott Bland.
The team definitely seems to be of an entrepreneur background, as is expected with an MLM company. I'm sure they have lots of experts that know about the health products.
It would still be nice to see that the people in charge also had a good grasp on the health and wellness products they sell. Of course, they probably do know their products but none of them seem to have degrees in anything health or medical-related.
Lorne Barry
According to their website, Lorne Barry has decades of experience in different kinds of businesses ranging from real estate to restaurants and education in real estate and market investment and helping companies to expand to international markets.
There seem to be some rumors online that Lorne declared bankruptcy just before starting Tranont. Will this can be considered alarming by some, I personally think it's not very alarming. On the contrary.
Many successful entrepreneurs struggled before they succeeded. It just means the man is determined and dedicated. Many people give up on life when they become bankrupt. He apparently didn't and thrived.
Lorne started Tranont to help regular people to have a real change to achieving financial success, I'm sure his own experiences are at least partly behind this.
Russ Losee
The Chief Operating Officer Russ Losee apparently has an 18-year career working with high-tech startups in areas such as content filtering, business intelligence, and genealogy.
He has a bachelor's degree in international marketing and finance with an emphasis on Chinese studies which gives him a global perspective to oversee the general operations of Tranont.
Scott Bland
Scott is the current president of Tranont. He has over 20 years of experience in entrepreneurial education and is skilled in coaching, marketing, real estate, and investment management. He also has 10 years of military service if that's something that interests you.
Tranont Products
So what does Tranont sell? Well, it seems that their products can be split into distinct categories. Health products and Wealth products.
Health Products
Their health products seem to be different kinds of supplements that consist of vitamins, minerals, herbal supplements, enzymes, and anti-oxidants.
Life: Healthy digestion with plant-based enzymes
Balance: Improves nutrient intake and general wellness. Minerals and antioxidants
Vibe: Energy and clarity with B-vitamin blend

Restore: Promotes healthy recovery and protein digestion with proteolytic enzymes

Glow: Collagen formula
Radiant: Anti-aging supplement

TechNOboost: Improves your cardiovascular system

Packs: Family, Fitness and Health Builder packs

The products do seem high quality and from what I can understand the ingredients seem legit. I'm not a health expert but I'm into fitness and health and have researched and consumed my fair share of supplements.
That said the products do seem a bit expensive. The supplement bottles range from $45 to $89 and the supplement packs from $249 to $669.
High-quality supplements are usually pretty expensive and people are willing to pay surprisingly high amounts for them. I personally think you should only use supplements that are proven to work and available in bulk forms like creatine and vitamin C. But that's just me, most consumers aren't like this and actually want to pay for a nice package.
Wealth Products
Besides health products Tranont also has a wide range of wealth products ranging from tax refund app to identity theft protection.
The wealth products actually seem to be provided by 3rd party companies and are not their own services. They are just acting as middlemen.
Taxbot
Taxbot is a smartphone app that helps you track your expenses and automatically tracks your mileage. It includes mileage tracking, expense tracking, AuditSafe reports, Taxbot rewards, and TaxBot university.
It will help you match your receipts to your bank transactions, prepare simple reports for your CPA and print a free AuditSafe Report at the end of the year to make tax preparation easier.
Taxbot costs $10/month.
Tranont Credit Services
Tranont Credit Services make obtaining a great credit score easier. It achieves this by helping you improve your credit and by fixing errors on your credit report. It costs $99/month.
Tranont Defend
Tranont Defend is an Identity theft prevention system designed to protect your identity, privacy, and money. It includes identity theft monitoring, credit monitoring, dark web monitoring, lost wallet protection, identity theft protection, and a $1 million service guarantee.
It also includes cybersecurity and tech support which include unlimited access to tech support, computer cybersecurity checkups, virus removal, troubleshooting, tune-ups, maintenance, mobile device security, privacy support, home network, wi-fi security setup and support and U.S. based INCISUS certified technicians.
It comes in essential and elite plans and as individual and family coverage. The essential plan includes ID Theft protection, cybersecurity, tech support, social media monitoring, and online safety alerts while the Elite plan includes a single bureau credit monitoring, report, and score.
Pricing is as follows:
Essential Individual $26.95
Essential Family $44.95
Elite Individual $32.95
Elite Family $58.50
Business Packs and Services
They also offer packs for businesses that combine their base products like the TaxBot and Tranont Defend. They also offer as business services Tranont Merchant Processing and Jive Business Phone cloud-based phone system.
How To Make Money With Tranont
So how can you actually make money with tranont? Well, there are two ways. Selling their products or recruiting more people into the system.
The system seems to be fairly basic MLM stuff. In case you are new to MLMs, here's how it works:
You become their associate or sales rep (the name varies with each company). This typically happens at an event or one of their reps recruit you.
To get in, you have to pay for inventory, marketing material, and training.
You can then become an independent sales rep and you can make money by selling their products to consumers
You can additionally make money by recruiting people into the system.
Every person you recruit into the system will give a percentage of their profit to you. Also, every person they recruit will give a percentage to you. The levels below are called your downline.
Depending on the system the downline can earn you income for several generations or tiers (the levels below you).
If you understand math, there can be thousands of people beneath you, producing you income.
That last point is the real way people make money with MLMs. It seems that it's completely possible to earn a full-time income through Tranont by selling its products directly, but it's going to require some serious hustling.
If you are seriously considering becoming a Tranont sales rep, the question you need to ask is what it costs to join and stay in the system and what kind of compensation plan they have. Let's take a look!
What Tranont Costs
So what it costs to get started? As of writing this, it costs $99 to become a Tranont Associate.
You will additionally need to choose a starter pack of some sort but I couldn't understand the actual price and options of these packs. Feel free to enlighten me.
But it seems you will have to pay $25/month for business tools and support as well in addition to the pack.
So the price will consist of the initial starting cost of $99 + starter pack + $25/month. That's not actually a bad running cost compared to some other MLMs that can require hundreds of dollars per month.
Tranont Compensation Plan
Like with every single network marketing company, Tranonts compensation plan is fairly complicated. I'll do my best to break it down into an understandable form.
You can find their full compensation plan here.
The personal customer commissions you will earn from product sales vary from 10 to 35%
They offer a car bonus if you personally sponsor three active associates and maintain 1,500 points of Qualified Group Volume which likely means the number of sales your team has to make.
It costs $99 + $25 if I understood correctly to join Tranont.
The compensation structure has 9 levels and additional bonuses.
The nine levels are color-coded Jade, Pearl, Ruby, Sapphire, Emerald, Diamond, Black Diamond, Red Diamond, and Blue Diamond. The levels will increase according to your personal and group volume. If I understand the plan correctly, the Group Volume means the volume of the sales of your whole downline (or at least several generations).
The levels essentially offer you a possibility for different kinds of bonuses ranging from builder bonuses (sales in a time frame), sales bonuses, JEEP bonuses, and team bonuses.
"Associate: To qualify at this rank you must sign up and join as Tranont distributor
Jade: To qualify at this rank you must maintain and generate 100 Personal Volume and 1500 Group Volume per month with no greater than 65% of your Group Volume from any single leg) and also maintain a minimum of 3 Associate ranks in your downline
Pearl: To qualify at this rank you must maintain a minimum of 100 Personal Volume per month, maintain & generate 5000 Group Volume per month with no greater than 50% of your Group Volume from any single leg and also maintain at least 3 Associates that you have personally recruited
Ruby: To qualify at this rank you must maintain & generate a minimum of 200 Personal Volume and 10,000 Group Volume per month with no greater than 45% of Group Volume from any leg. you must also maintain at least 3 Associates that you have personally recruited
Sapphire: To qualify at this rank you must maintain a minimum of 200 Personal Volume per month, maintain and generate 25,000 Group Volume per month with no more than 45% of Group Volume from any single leg and maintain at least 3 Associates that you have personally recruited
Emerald: To qualify at this rank you must maintain at least 200 Personal Volume per month, maintain and generate 50,000 Group Volume per month with no greater than 45% of your Group Volume from any single leg and maintain at least 3 Associates that you have personally recruited
Diamond: To qualify at this rank you must maintain at least 200 Personal Volume per month, maintain and generate 100,000 Group Volume per month with no more than 40% of your Group Volume from any single leg and maintain three personally recruited Associates
Black Diamond: To qualify at this rank you must maintain 200 Personal Volume per month, maintain and generate 200,000 Group Volume per month with no more than 40% of your group volume from any single leg and maintain at least 3 Associates that you have personally recruited
Red Diamond: To qualify at this rank you must maintain 200 Personal Volume per month, maintain and generate 400,000 Group Volume per month with no more than 40% of your Group Volume from any single leg and maintain at least 3 Associates that you have personally recruited
Blue Diamond: To qualify at this rank you must maintain 200 Personal Volume per month, maintain and generate 1,000,000 Group Volume per month with no more than 40% of your Group Volume from any single leg and maintain at least 3 Associates that you have personally recruited"
It's important to notice the small print at the bottom of the compensation plan:
"The hypothetical examples used in this presentation are for illustrative purposes only and are not meant to imply that it is typical. Success as a Tranont Associate is not guaranteed, but rather influenced by an individual's specific effort. Not all Tranont Associates make a profit and no one can be
guaranteed success as a Tranont Associate. Bonus Pools are paid up to amount listed. Full Tranont Compensation Plan details are available at Tranont.com and on the Tranont Compensation Plan document. To qualify for Builder Bonus, associate must start and maintain 200 PV during the specified
time. Personal Residual Commission are based on total closed volume. Copyright © 2018 Tranont. All rights reserved." -
​

How Much Can you Earn With Tranont
There are of course no promises to what you will earn with Tranont since it is completely up to you. I have no doubt there are people making big bucks at the top of the network structure from all the sales reps beneath them.
I would say that it's probably possible to make a full-time income (four figures monthly or so) by selling their products but it's going to involve doing some serious selling and you probably need existing networks.
If you just sell the products it's no different than being a direct sales rep for any other company. The real earning potential in MLMs is in recruiting people so you can get additional income from your downline or team instead of just your own sales.
You have to remember that Tranont has been around a while. With legit MLMs, it's always better to get in as early as possible so you can get people into your downline before the market is saturated.
I'm sorry but that's the only estimate of the earning potential I can give you. I'm sure you can make a lot of money if you are proficient in leveraging the system.
But you need to keep in mind that most people don't make any profit with MLMs and many actually lose money according to this FTC study:
"Of the 350 MLMs I have analyzed for which a complete compensation plan was available, 100% of them are recruitment driven and top-weighted. In other words, the vast majority of commissions paid by MLM companies go to a tiny percentage of TOPPs (top-of-the-pyramid promoters) at the expense of a revolving door of recruits, 99% of whom lose money. This is after subtracting purchases they must make to qualify for commissions and advancement in the scheme, to say nothing of minimal operating expenses for conducting an aggressive recruitment campaign – which(based on the compensation plans) is
essential to get into the profit column."
I'm not saying that Tranont is like the businesses discussed in that document, but the similarities to the business model are obvious.
Is Tranont An MLM
Tranont seems to be a Multi-level marketing company. The tranont compensation plan proves this as it uses a cascading "pyramid" model where you earn income from the salespeople below you (in your downline) make.
I want you to understand that being an MLM isn't the same thing as being a pyramid scheme. Pyramid schemes do use the MLM business model but the MLM business model can be used honestly as well.
The strong point of MLM is the fact that the business model allows to company to grow exponentially through word of mouth marketing by the individual sales reps.
It also creates a financial incentive for the sales reps to recruit new people in the system. When used correctly and in conjunction with high-quality products, this can create a true win-win situation.
The company, the sales rep and the customer can end up saving a ton of money because the distribution chain is much more direct than in regular
But the biggest problem with MLMs is that they are susceptible to corruption. It's very easy to create hype and false promises in hopes to get people to join in by investing large amounts of money.
If there are no real products or if the emphasis is on recruiting new people into the system, an MLM becomes a pyramid scheme.
Is Tranont A Pyramid Scheme
No, it doesn't seem that Tranont is a pyramid scheme. Like we talked about in the previous chapter, pyramid schemes usually either have no real products or they focus on recruiting instead of selling the products.
Tranont seems to have plenty of products to sell and because it has two major niches it has a lot of wider potential customer base.
That said, it's always very hard to tell with MLMs how large percentage of their profit is made through recruitment and how much through selling products.
But the fact that Tranont has been around for about 7 years and that they actually have a wide array of products and no (at least public) lawsuits is definitely a good sign. They are likely a legit company.
Check out my article about pyramid schemes if you want to learn more about the differences between MLMs and Pyramid Scheme.
Is Tranont A Scam
No, I don't really think that Tranont is a scam. They are just another MLM as far as I can tell and in my opinion.
As far as MLMs go Tranont seems to be a legit business opportunity with real products and a decent compensation plan. They have real products and relatively small expenses to join.
But if you are looking for a way to make money from home or perhaps earn a passive income, I can't really recommend any MLM to you.
This is because the odds are against you and because I personally don't like the idea of recruiting and selling directly to people.
I personally think there are better business opportunities that don't require you to hard-sell and pester people with your offers.
I personally use a business model that allows me to work from anywhere in the world, earn passive income and sell on automation without the need to try and convince anyone. I just present solutions to problems and people are happy to buy. I'll talk more about that in a sec.
The Problem With MLMs
The problem with most MLMs is that the products are usually fairly expensive and that most of the people in the system won't ever make real profit.
With MLMs, it's important to get in early on so that you can get people recruited into your downline and thus earn exponentially from their sales.
Only making money from selling the products in MLMs can barely cover your costs. It's also possible to lose a lot of money if the MLM requires you to pay for monthly inventory for example.
Before you invest large amounts into training and inventory ask yourself if you are the kind of person that is willing to sell endlessly to people and don't mind taking no for an answer.
The fact is that most people hate being sold to. They want to take their time and buy from their own initiative.
That's why most people will straight up tell you no, they might also tell you that you are a part of a pyramid scheme or just quit any contact with you.
Also many of the people that end up buying from you, probably do so because they are too kind to say no.
To get people to join in the system by recruiting you are going to have to convince them it's worth their while. People often feel pressured when they end up in MLMs even if that wasn't your intention.
And that's why I don't personally like MLMs or recommend them to anybody. I don't like the idea that anyone that buys products from me or joins a program I recommend, might feel pressured.
And I want to be perfectly clear that I don't think Tranont approves pressuring people in any way, it's just my experience with MLMs and people who join and market them.
That's the other problem with the business model. The mother company can have strict rules but no one can realistically supervise thousands of sales reps and make sure everyone is using ethical and complying sales tactics.
Since the business model creates a financial incentive for recruiting people into the system, there are plenty of dishonest people willing to downright lie to you to get you to join in.
Why do you think there are so many people in pyramid schemes? It's because there are dishonest people willing to recruit other people into the systems.
With legit MLMs, you at least have a chance of making your money back honestly but with pyramid schemes, you can either accept that you've been scammed or try and make your money back by recruiting even more people.
It's a crazy system that can destroy families and communities. That's why I steer clear of them and only use systems that don't require hard selling.
What I Recommend Instead
If you want to work for yourself and create long term passive income, I recommend you create an online business. It offers you the freedom to work from anywhere and to reach people all over the world. It also allows you to get true residual passive income.
There are several business models that are proven to work. I'm sure you've heard of many of them: Dropshipping, eCommerce, affiliate marketing, local lead generation etc.
I personally use affiliate marketing as my main strategy for the reason that it doesn't require huge investments, it allows almost complete automation once set up and you can work anywhere in the world.
Most importantly affiliate marketing allows you to cut out all the time consuming and annoying stuff like handling shipping, customer service, and reclamations and complaints.
With affiliate marketing, you just refer customers to the vendor. The vendor takes care of all that other stuff. Besides them being a hassle they are a huge legal liability.
Just running a small eCommerce store can get you sued for a plethora of things including dangerous products, not having accessible webstore for people with disabilities, etc.
You also have to invest in inventory. Even with drop shipping where you act as a middle man and ship from the dropshipping companies inventory, you are still legally the vendor.
This is a huge liability and you need to know a lot more about your legal obligations than many people who recommend these business models tell you.
That's why I recommend affiliate marketing as the go-to business-model for beginners in online marketing. It's simple, effective and safe.
If you want to learn how to create a successful online business, I recommend Wealthy Affiliate. I've used their training to create two income-producing websites.
They are simply the best and most affordable training service there is. They even include all the tools you need like website hosting and keyword research tools.
If you join through my link, I will earn a small commission. But you can make me work for that commission! Just hit me up inside WA and I'll help you out in any way I can.
While the training there is top-notch, you can fast track your process by following people who have walked the path before you. There's so much unnecessary stuff beginners waste their time on.
For example, the way your website looks really doesn't matter, don't waste time setting it up. Or staring at traffic data is completely pointless for the first 6 months. As is jumping from program to program or changing your niche or website etc.
And don't even get me started on content creation. People waste time on honing pictures, making perfect sentence structures, sweating over stuff that doesn't really matter and end up missing the big picture. In short, done is always better than perfect. I will show you a simple model you can replicate.
I actually created a free 7-day course you can check out if you want to set up your online business in a week. I will also offer you my full support by email, you can contact me any time by replying to one of my emails and I'll do my best to help you out.
Don't treat my offer lightly. Having someone to watch over you is a huge asset and not all people live up to their promises. But I do.
Tranont Complaints
BBB:
While tranont has an overall score of 4 out of 5 at BBB and an A+ rating, there are some negative reviews. The negative reviews seem to be mostly about the products not being effective
Glassdoor:
I checked their ratings at Glassdoor. You have to remember that these ratings are for actual employment at the company, not necessarily for acting as a sales rep or about their products.
But I do think the way the company treats its employees tells a lot about the company. They have a 4.5 rating out of 5 at Glassdoor and there was only a single negative review that you can see below.
You have to remember that a single unhappy employee never really tells anything about the company, there are always people who don't like the companies they work for, no matter how well it's operated.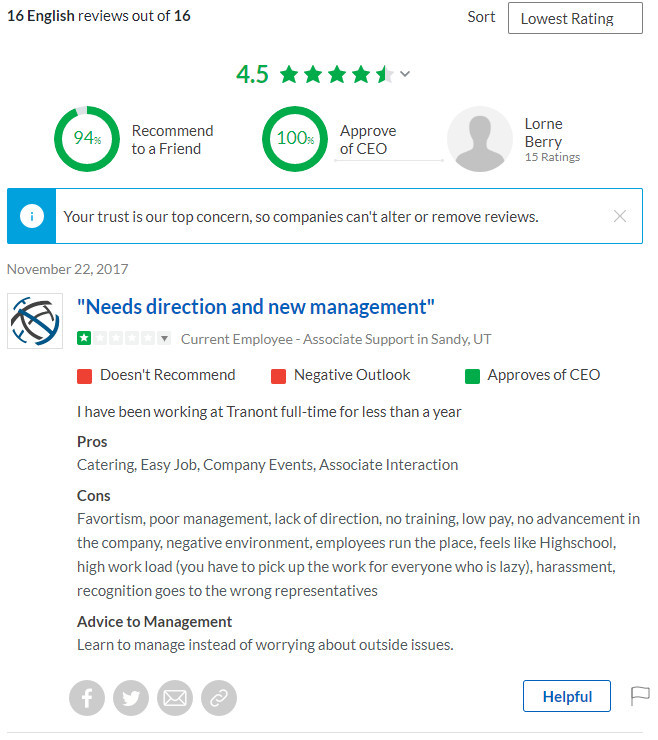 Are Tranont Supplements FDA Approved
Tranont products don't seem to be FDA approved to treat, cure or prevent any diseases. They are sold as supplements and the FDA doesn't by definition approve them as treatment for illnesses.
FDA does, however, regulate supplements. Basically this means that the companies that manufacture and sell supplements are responsible for evaluating the safety and labeling of their products.
"FDA regulates both finished dietary supplement products and dietary ingredients. FDA regulates dietary supplements under a different set of regulations than those covering "conventional" foods and drug products. Under the Dietary Supplement Health and Education Act of 1994 (DSHEA):
Manufacturers and distributors of dietary supplements and dietary ingredients are prohibited from marketing products that are adulterated or misbranded. That means that these firms are responsible for evaluating the safety and labeling of their products before marketing to ensure that they meet all the requirements of DSHEA and FDA regulations.
FDA is responsible for taking action against any adulterated or misbranded dietary supplement product after it reaches the market."
While the company doesn't claim them to cure any disease, with MLMs there are often problems with individual sales reps taking the liberty to add claims to the products.
Such is the case for example of a sales rep marketing Tranont products as an effective way to prevent/treat the Corona virus that is currently wreaking havoc across the globe:
"A Tranont distributor is marketing their supplements as a Coronavirus preventative.
(Name of the distributor) is a Tranont distributor based out of Oahu, Hawaii.
(Name) joined Tranont in mid 2019. Since then she's been m arketing Tranont's supplements frequently on social media."
This is of course not in accordance with the companies guidelines and I'm sure they will act upon this kind of marketing. Not to mention it's potentially illegal to claim a supplement can treat a real disease.
This is one of the challenges even with legit MLMs like Tranont. The people who market them are individuals with different levels of legal understanding, ethics, honesty, and integrity.
The only thing the mother company can do in a situation where a sales rep is acting against their rules is to discontinue their contract. And in severe cases pursue legal actions.
Most MLMs have very strict rules and disclaimers for the sales reps, the companies try their best to not be responsible for the acts of individual sales reps.
Since there are thousands and thousands of individual sales reps, usually all around the world, controlling their sales strategies becomes an impossible task for the company.
I'd still like to see more MLM companies actually take legal actions against people who are marketing their products with dishonest intents and publically intervene with this type of activity.
This would send a message to the general public that they actually care about their image.
This is one of the reasons why MLM businesses are full of con artists. Now I want to be perfectly clear I'm talking about MLMs in general, I'm not making any claims against Tranont. From what I've seen they are one of the more honest MLMs.
Conclusion
I hope you found this Tranont review useful and it answered your question if tranont is a pyramid scheme. I really don't think it's a pyramid scheme, they seem to be a legit network marketing company.
But like I said, I personally can't really recommend MLMs to people because of the problems with the system.
That said, it's totally possible to make a living with MLMs if you are active, outgoing and don't mind taking no for an answer.
I just think the biggest problem with MLMs is that it feeds cult-like mentality and cutthroat sales tactics. So if you ever become an MLM sales rep, please don't condone these kinds of tactics.
Only sell to people who are actually interested in the products and recruit people you can honestly think can at least make their money back.
Don't become a snake-oil salesman that makes up spoof claims to any problem people are desperately looking for a solution. This will provide more success in the long run and save your relationships with people close to you.
But if you are just looking for a way out of your day job or a way to create long term passive wealth, I definitely recommend getting in on the online business.
You are not late by any means, there are more people using the Internet than ever before and you have a better chance of getting traffic than ever.
You just need to know what you are doing, work hard and be patient. Gone are the days when you could create a simple micro niche website with 10 posts of 500 words.
These days you are looking to writing 100+ 1500 word blog posts to start getting decent traffic. But it's just like planting trees. You will get to pick the fruit of your labor for years to come so you just have to be determined.
Which sounds worse, working 30+ years for 40+ hours/week or initially writing a few hundred or thousand blog posts in a few years and then working 10 hours/week or not at all? Completely up to you.
YouTube is currently much easier to rank so if you feel comfortable in front of the camera, this is a valid tactic currently as well.
If you want to learn how to succeed with an online business, you will not find a better bang for the buck than Wealthy Affiliate. Also definitely check out my free 7-day course that will get you started in less than a week!
Thanks for reading and if you have any questions don't be afraid to leave them in the comments section below. I will get back to you as soon as possible.
See you next time!
I've reviewed Similar Products you might be interested in: