Welcome to my Kuailian Review! Is Kuailian a Scam or a pyramid scheme or a legit business opportunity? Read on to find out.
Kuailian is a new investment opportunity that seems to have MLM properties and is based on cryptocurrency.
If you've followed what happened to OneCoin you are right to feel concerned in this space. (This is not actually a new cryptocurrency)
So if someone has pitched you to join the Kualian business opportunity, keep calm and read the full scoop.
I'm not a part of the system so I'm not here to sell you the system. I'm just offering an honest opinion of the system, compensation plan and products.
Since I'm not part of the system, I'm basing this review on the information they disclose on their marketing material and website and third party information online.
Kuailian Summary
Product Name: Kuailian
Product Type: Cryptocurrency investment and MLM
Product Price: $50.95 registration fee + investment.
Summary:
​Kuailian is an investment platform that is based on the cryptocurrency Ethereum Masternodes.
The company offers a platform for people to pool their cash so they can be invested to run a Masternode, which will pay a reward for it. This is the return of investment the system offers and the company takes a piece of that.
The company also has a MLM based recruitment model that creates the incentive to recruit new people into the system. Because it offers an MLM compensation plan, has no physical products to sell there's always the possibility of it being Pyramid or a Ponzi scheme.
I'm not claiming it is, but the company needs to realize they need to prove this very transparently and adamantly because they have decided to include a MLM business model.
I'm personally very skeptic about MLMs and I recommend people invest in regular investment products like stocks and create other ways to earn passive income. My number one recommendation that I use myself can be found through the link below.
I want to believe Kuailian is legit, I truly do, because the business model could definitely work. I'm just concerned because it's hard to find who's behind the company and you have to be referred to join the system. Why not proudly tell who owns and runs the business and make it available to anyone interested in investing?
What Is Kuailian
In their own words, Kuailian is a digital ecosystem of decentralized software and applications. When you dig around a bit it becomes apparent it's a multi-level marketing company that offers investment opportunities based on cryptocurrency.
The company has headquarters in Tallinn, Estonia, and branches in Southeast Asia and they seem to be especially active in Spain and Latin America as well.
Well actually according to their own word they are not a company, but a decentralized protocol. A system that's not operated by any individual or company, but by an intelligent contract between individuals and AI that monitors transactions and takes care of the funds.
According to their website, their corporate vision is to implement an international platform that facilitates the personal and financial growth of its members.
Their mission is to develop the technologies that facilitate access to market resources through decentralized protocols. Their values are innovation, transparency, ethics, responsibility, and proactivity.
In its core the Kuailian system consists of two things. An educational platform and access to a "Smart Pool".
I couldn't really find information on what educational materials their platform offers but the Smart Pool is an investment product that's based on running Etherium Masternodes.
If Etherium Masternodes makes no sense to you, in short, it's about cryptocurrencies. They invest in keeping the cryptocurrency called Etherium operational by running its Masternodes. The cryptocurrency pays for running these Masternodes and these rewards are the effective ROI if I understood the system correctly.
You can get paid in Etherium or Bitcoin apparently and both can be converted to the currency you prefer.
From what I could find, currently, the monthly rewards from running Etherium Masternodes are between 6% and 8% on average and can be as high 12%.
People Behind Kuailian
Kuailian founder is apparently a man named Miguel Tello. I could not find this information on their website but from another website that seems to belong to the company. The site is called Kuailianinfo.
There is a interview with the founder Miguel that seems to be auto-translated from Spanish and you can watch the full Spanish interview below.
Since transparency is one of their core values I find it kind of alarming that it's hard to find the information on who runs the business. Then again they are calling themselves a decentralized protocol so anonymity is probably a big part of that...
Kuailian Products
The only product Kuailian seems to have is their Smart Pool which offers the possibility to invest with their Software by acquiring a license and units.
Each unit of the license is called KUAI. Each KUAI has the Etherium value equivalent of $100 (USD).
So if I understood correctly the KUAI is essentially the money within the POS Software that uses the Smart Pool for controlling investments.
So the system works like this.
You buy KUAIs under your license. Each KUAI costs $100
You can then invest your KUAIs in the Smart Pool
The Smart Pool invests the KUAIs to run master nodes
After a while the Masternode returns profit for running it
The system is based on the cryptocurrency blockchain technology that requires Masternodes that verify transactions between users.
Masternodes rewards whoever is running it. The problem is that running a Masternode requires a significant amount of money with most cryptocurrencies and some tech like a 24/7 server with a dedicated IP.
We are talking about several thousands worth of crypto and hardware capital.
What Kuailian seems to be doing is pooling the money of its investors to run Masternodes. The Masternodes return a reward that is the profit for the participants. The company takes a 15% share so it's a win-win situation.
I actually like the idea and there is definitely an incentive for everyone in the system. The investors win, the company wins and the cryptocurrency wins.
Kuiailians system in a nutshell (Copyright Kuailian):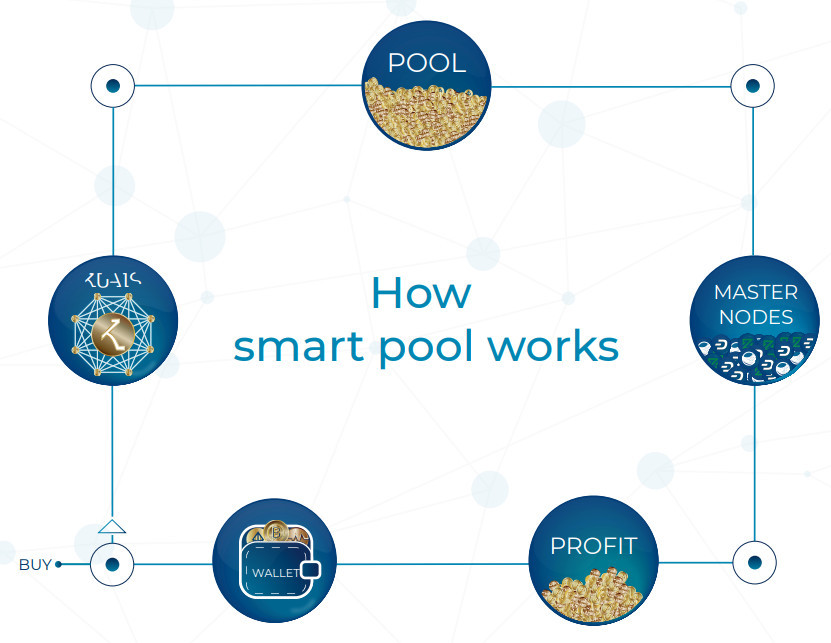 What It Costs To Join
They have a one-time membership fee of $50.95.
You can acquire your software license for using Kuailian for $100.
After that it apparently it's just a matter of how much you want to invest in the system.
How You Can Make Money With Kuailian
So how exactly can you make money with Kuialian? Well as with most MLMs there are two ways. In the case of investment MLMs by investing in the investment products and by recruiting new members into the system.
Like we talked about the investment product seems legit on paper. You have to keep in mind the ROI is somewhere around 5% to 12% / month.
In their theoretical example, they show that you could almost triple your investment in 1000 days.
That's actually a very nice ROI if it's sustainable over the long term but definitely, nothing that could make you rich overnight. I'm glad they are not claiming that in their marketing strategies either.
Like with all MLMs, the real money is in the recruitment of new people in the system. Let's look at the compensation plan they offer.
Kuailian Compensation Plan
Like we've already established, Kuailian seems to be an MLM business since they use a multi-level compensation plan. So what does the Kuialian compensation plan actually look like?
You can find their "business plan" aka compensation plan here. (Scroll down a bit to the second paragraph)
"The great sustainability of our compensation plan allows us to eliminate the traps that are so frequent in other plans.
We do not pay more than our margin and we do not cheat with false expectations about impossible profits.
The combination of a fair compensation plan, sustainable and easy to understand, with an exceptional product, possibly makes us one of the best options in the market."
The compensation plan consists of three bonuses and 15 ranks. Your rank affects how high commissions and residual income you earn from your downline
Ranks
There are 15 ranks in the Kuailian system that Jesse Sing made a great job writing out to actual dollar value:
Starter – Invest $200
Advisor – Invest $500 and generate $1000 in downline investment volume
Manager – Invest $700 and produce $2500 in downline investment volume ($100 on your first unilevel team level)
Executive – Invest $1000 and produce $5000 in downline investment volume ($200 on your first unilevel team level)
Director – Invest $1200 and produce $7500 in downline investment volume ($300 on your first unilevel team level)
Regional Director – Invest $1500 and produce $10,000 in downline investment volume ($500 on your first unilevel team level)
National Director – Invest $2000 and produce $25,000 in downline investment volume ($1200 on your first unilevel team level)
International Director – Invest $4000 and produce $50,000 in downline investment volume ($2500 on your first unilevel team level)
Vice President – Invest $7000 and produce $100,000 in downline investment volume ($5000 on your first unilevel team level)
Senior Vice President – Invest $12,000 and produce $500,000 in downline investment volume ($25,000 on your first unilevel team level)
President – Invest $20,000 and produce $1,000,000 in downline investment volume ($50,000 on your first unilevel team level)
Shareholder – Invest $30,000 and produce $2,500,000 in downline investment volume ($125,000 on your first unilevel team level)
Main Shareholder – Invest $45,000 and produce $5,000,000 in downline investment volume ($250,000 on your first unilevel team level)
Ambassador – Invest $70,000 and produce $10,000,000 in downline investment volume ($500,000 on your first unilevel team level)
Global Ambassador – Invest $100,000 and produce $12,500,000 in downline investment volume ($1,250,000 on your first unilevel team level)
The compensation plan consists of:
Daily Payment Bonus
Quick Bonus
Residual Bonus
Pool Ambassador Bonus
Daily Payment Bonus is a bonus that rewards you for the performance of the Smart Pool. It is paid daily and is based on the total value in Ethereum of all the contracts that you have acquired.
The Quick Bonus is a short term commission that rewards you directly for your referrals. The way it is calculated is so complicated that I'm not going to write it up, check the link if you are interested. In short, it depends on your rank.
Residual Bonus allows you to generate passive income from your active client contracts. This depends on your rank.
Ambassador Pool Bonus is aimed to the promoter that reaches the rank Ambassador. It's an additional income from the whole system.
They also have a reward program for Club Ambassadors which include physical products like iPads, iPhone, MacBooks, Rolex and Leadership trips.
Is Kuailian A Scam?
There are a few red flags like the fact that you can't easily find who are the people behind the system, you have to be referred to join the system, it costs to join and it uses a multi-level marketing business model.
I'm going to give them the benefit of a doubt since there's no evidence that the system would be fraudulent. So no, I wouldn't call Kuailian a scam.
I actually think that at the core the investment product is sound and the principle would make it profitable for all parties. Then again I'm no expert in cryptocurrencies...
But because of the red flags, Kuailian is currently something I can't really recommend.
So I would advise practicing caution if you are being offered to join the system. Go over the investment opportunity and the compensation plan very carefully before deciding if it's something you want to be a part of.
I would be especially careful if you really don't have money to spend. I would categorize this as a very high-risk reward investment and wouldn't personally invest anything that I wouldn't feel comfortable losing.
So if you are looking to get out of your day job or become rich quickly, these kinds of opportunities generally aren't the way to go. The fact is that most people don't make money with MLMs.
Is Kuailian A Pyramid Scheme?
Again, too early to tell. I'm not going to claim they are a pyramid scheme when there's no proof of that.
But I'm personally worried about the fact that it's a multi-level system where you have to pay to get in.
I do understand their system is about pooling money and investing that for mutual benefit. It's just the MLM system and participation fee that raise concerns.
But since it uses a multi-level referrals system with a participation fee and investment requirement, there's always the possibility that the earnings of previous participants are funded from the recruitment of new people within the system.
This could make it a Ponzi Scheme. When used in an MLM setting it becomes a pyramid scheme. I'm not claiming Kuailian is guilty of this but I think that responsible companies in this space have the obligation to be completely transparent and show proof where the investment returns and funds are coming. I hope Kuailian does this, I really do.
That said the investment to get in is relatively low at about $150 (registration fee + minimum license) it doesn't seem like a regular pyramid scheme where it usually costs several hundred dollars or thousands to get in.
Kuailian also claims it's based on a "smart contract" so that the company or platform doesn't actually handle any money but it's in the blockchain.
Just rememer that If something sounds too complicated for you to understand AND seems too good to be true, you need to be extremely careful.
How To Earn Passive Income
If you are looking for a way to make some real extra income, I have a recommendation for you.
I make money online with my websites. The one you are reading is one of them. You probably wound up here when looking for information on Kuailian through Google.
I have tons of content that people can find on Google and in case you are new to online business, if you can rank your content on the first page of Google, you can make money.
The best part is that the money is passive once the content is set up. I have to write this article once but it will keep popping up in people's search engine results for months and years to come.
That means I can make money on automation for months and years to come. This business also offers the opportunity to work from anywhere in the world. All I need is a laptop and an Internet connection.
The earning potential is also pretty much unlimited. It's definitely not a get rich quick type of deal, you actually have to work by creating the content and you need lots of it. But it's a skill you can definitely learn wit the right training, so don't be afraid of it.
If you want to learn how this stuff works, check out my number one recommendation Wealthy Affiliate for learning these skills and join my free 7-day course where I help you avoid all of the common beginner mistakes.
Conclusion
I hope you found my Kuailian review useful and it answered most of your questions. Feel free to leave any questions in the comments section below and I promise to get back to you as soon as possible.
Kuailian is definitely an interesting looking business opportunity but unfortunately, there are currently too many red flags for me to feel comfortable recommending it to you.
If they would be more open about the ownership behind the company and didn't use the MLM business model, I would feel much more comfortable about recommending them.
For now, I would recommend investing in regular stocks if you have the capital to spare. But if you are looking to make actual money and are willing to work for it, I definitely recommend you check out the online business opportunity.
I've reviewed Similar Products you might be interested in: